Women in Auto Care, a community of the Auto Care Association, saw another record year for its scholarship program, distributing 86 awards worth over $400,000 in both cash scholarships and tool kits, to female students across the United States looking to have a career in the auto care industry. The incredible success of this year's program was supported by the generosity of Women in Auto Care community sponsors and member donations, as well as tool partnerships with Genuine Parts/ NAPA and Acuity.
The Women in Auto Care scholarship program began in 2004 with just $2,000 and has continued to gain momentum each year. This marks the sixth year in a row that the program has been its most successful to-date, nearly doubling the record set in 2021. In addition, in 2022 the program surpassed a major milestone of more than $1 million dollars' worth of awards being distributed,
2023 Scholarship Applications have closed



Winning this scholarship has left me speechless and very appreciative. We all know that quality tools and building a proper tool kit is a costly out-of-pocket expense. This tool kit award will most definitely help me to gain my footing while starting out in the automotive industry. I will be forever grateful to Women in Auto Care and NAPA!

Cheryl L Perretti-Blaisdell




My favorite part of the automotive industry is the support. I cannot imagine a more welcoming or encouraging group of people. As a young women showing interest in cars, especially older cars, I have received 100% support and praise and encouragement from thousands of total strangers.

Riley Schlick-Trask




Winning this scholarship means the world to me. Tools is the biggest financial strain to technicians. As a student and young tech who is completely financially independent it can be difficult to make ends meet. However, with this scholarship I don't have to worry about that expense.

Sydnie Alexa Mailer-Kelly




Winning this scholarship provides me the confidence and tools to begin this lifelong dream career. This opportunity gives me hope and drive to become a well-prepared technician. I do not have to worry about the expenses of the provided tools on top of school loans and other personal spendings.

Tomoko Yoshizumi




This award speaks volumes to me. It is a confirmation of a path that I am forging in my life a little later than most. It is empowerment to pursue helping others and change their lives by giving those in need more opportunities that come from owning a working and reliable vehicle.

Danica Warner




Winning this scholarship means a great deal to be able to have the opportunity to continue my goals within the automotive community. I am so lucky to have such passionate people around me that are eager to teach and encourage me to further my education, so I really want to prove to them how much it means to me.

Bailey Dymacek




My favorite thing about the automotive industry is that I learn something new everyday. The industry is always changing from the tools, to the people, to the vehicles or whatever you are working on. There isn't a lot of repetition.

Taeler Coverdale




I would love to someday be able to open up my own shop, on my tribal reservation where auto shops are greatly needed.

ShaVonne Two Bears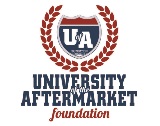 Women in Auto Care is thankful to partner with the University of the Aftermarket Foundation to provide hundreds of scholarships each year. Named a Gold Lifetime Trustee in 2023, Women in Auto Care joins the industry-wide initiative to support the next generation of students entering our business.