Purpose
The Person of the Year award honors an individual for his or her outstanding contributions to the industry and to the Import Vehicle Community during the past 12-month period preceding the selection of the current year's award recipient. There shall be no more than one individual per year honored as the Person of the Year.
Qualifications
The candidate must be from within the aftermarket industry sector.
An individual can win the award more then one time, provided the person qualifies for a second nomination by virtue of the "purpose" above. A period of five years must elapse before an individual can be nominated for a second or subsequent Person of the Year award.
An individual should not be considered for the Person of the Year award for historical industry contributions. The individual's performance during the preceding 12-month period is to be considered by the committee.
Self-nominations are not accepted.
Nominations for 2021 are closed.
2021 People Award winners will be announced during the Import Vehicle Community Awards Luncheon at AAPEX on Wednesday, Nov. 3, 2021.
The Import Vehicle Community presented the 2019 Person of the Year Award to: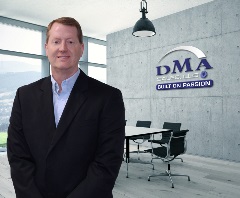 John Treece, president and CEO, DMA Holdings, Inc./SenSen Shocks North America
John Treece began his 30-year career in the automotive aftermarket in sales, and quickly ascended to senior management positions before transitioning to what would become his life's passion, product development and marketing. As global product development director, Treece oversaw worldwide responsibilities for product research, development and marketing. As managing director for Europe, Africa and the Middle East sales, John and his family lived and worked in Brussels, Belgium.
In 2002, Treece returned to the U.S. and acquired Atlantic Automotive Enterprise (AAE), a remanufacturer of import automotive steering systems. Under his leadership, the company grew to become one of the category's leading suppliers and a pioneer in EPS (electronic power steering) remanufacturing.
In 2007, Treece founded DMA Sales, which has become a leading supplier and marketer of aftermarket products. Its portfolio of brands is one of the most recognized and respected. Treece sold AAE in 2015 to dedicate 100% of his time to DMA. For the last three years, DMA has been on Inc. 5000's fastest growing private companies in America and is among the top five fastest growing in North Carolina.
Treece received the Impact Executive of the Year Award in 2010. Since 2014, he has served on the Executive Leadership Council of the Import Vehicle Community, becoming vice chairman in 2018 and chairman in 2019. Treece speaks at international conferences where he is considered an expert in supplier relationship development in China, Asia and Europe. In his spare time, Treece enjoys boating, golf and spending time with his family and Old English Bulldog "Louis."
Previous Award Winners
Person of the Year Award
Randy St. John (1985)
Stephen Herrick (1986)
Peter Neuwirth (1987)
Hank Allessio (1988)
Mike Spagnola (1989)
Fred Olefson (1990)
Marty Gold (1991)
Steve Kirby (1992)
Barry Breslow (1993)
Brad Glazer (1994)
Chris Kersting (1995)
Mike Spagnola (1996)
Fred Olefson (1997)
Ira D. Davis (1998)
Steve Holt (1999)
** (2000)
Kathleen Schmatz (2001)
Tony Perticari (2002)
Ira D. Davis (2003)
Gary Garberg (2004)
Stephen Bearden (2005)
Dan Lelchuk (2011)
** (2012)
Barry Breslow AIA Person of the Year Award
Lee Kadrich (2006)
W. Michael Brown (2007)
Brian Cohn (2008)
Mary DellaValle (2009)
Martin T. Gold (2010)
Peter Klotz Person of the Year Award
Stephen Bearden (2013)
James "JD" Bailey (2014)
Steven Hughes (2015)
Andres Castrillon (2016)
Thomas Beer (2017)
Person of the Year Award
**Award not presented.