Pursuit of Excellence Award: Recognizing Special Achievement
Pursuit of Excellence Award: Recognizing Special Achievement
This annual award is presented in recognition of excellence in business performance and the setting of high standards as an example for others to follow. Such performance may be related to innovative and successful methods of management, marketing, manufacturing or service. In addition, this award may be presented for exemplary volunteer or advocacy efforts made on behalf of the winner's company and/or industry. Award winners must be an AWDA member or employed by an AWDA member company.
2021 RECIPIENTS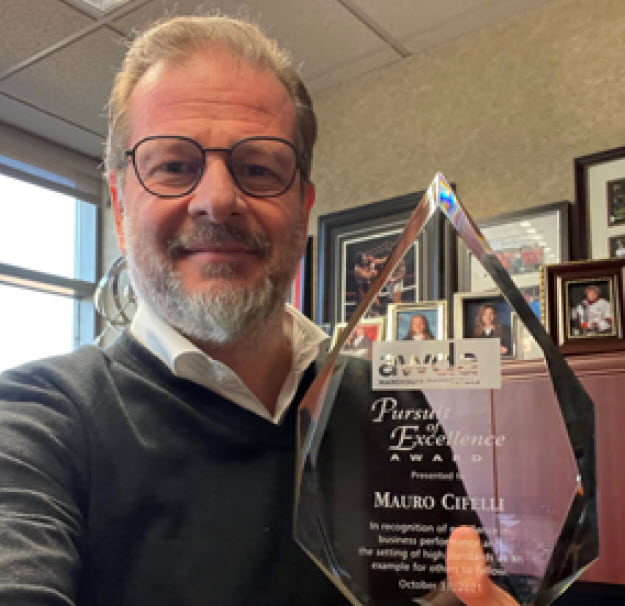 The Automotive Warehouse Distributors Association (AWDA), a community of the Auto Care Association, presented its 2021 Pursuit of Excellence Award to Mauro Cifelli, president and CEO, Groupe Del Vasto.
Cifelli joined the Del Vasto organization in 1994 and has held a variety of positions in the areas of Information Technology, Marketing, Sales and Customer Service. In 2018 he was named president and CEO. Over the past 27 years, he has played a pivotal role within the organization. His inspiring leadership, obvious management skills and extensive knowledge of the industry have served him well in driving the advancement of the organization's vision and mission.

Cifelli's was chairman of the Automotive Industries Association of Canada at both the provincial and national levels and also serves as director and treasurer of the Aftermarket Auto Parts Alliance Board of Directors. During his recent two-year term as AWDA Chairman, the aftermarket industry was forced to deal with the COVID pandemic and resulting move to all-virtual conferences and board meetings.
"Like everyone, he faced huge business and personal challenges, but he never let them negatively affect his AWDA chairmanship. Mauro was an absolute rock--the right guy, at the right time," said Larry Northup, executive director, AWDA.
Previous Award Recipients
2021 Mauro Cifelli
2020 The Merrill Company and Arnold Motor Supply
2019 Young Auto Care Networking Group (YANG)
2018 Tom Seboldt
2017 Corey Bartlett
2016 Aftermarket Auto Parts Alliance
2015 Wix Filters
2014 Wilson McMillion
2014 George Segal
2013 John Bartlett, Jr.
2012 Frank Frederick
2011 Richard Beirne, MAAP
2010 David Caracci
2010 Brian Cruickshank, MAAP
2009 Rusty Bishop
2008 Dennis Welvaert
2007 Jay Burkhart
2006 Bill Schlatterer
2005 Jerry McCabe
2004 Rosemary Hall
2003 Barbara Cunningham, Jim Eady
2002 Jon Owens, AAP
2002 Ken Mullen, AAP
2001 Richard H. Morgan, AAP
2000 Bill Dotson, AAP
1999 John M. Riess
1998 Standard Motor Products
1997 Moog Automotive
Chuck Udell, AAP
1996 Dayco Products Inc.
1995 Robert Egan, AAP
Jack Creamer, AAP
1994 A.E. Clevite Engine Parts
The Gates Rubber Company
1993 Triad Systems Corporation
1992 John Castle
Rosemary Hall
Charles J. Monahan
1991 Robert Miller
Stephen C. Horn, AAP
1990 Gus Carlson
Richard D. Kudner
1989 William Wade, AAP
1988 Jack Heyler, Automotive Service Association
Tenneco Automotive Wagner Division, Cooper Industries
1987 S.R. "Dick" Downey
Charles J. Monahan
Robert H. Raff, MAAP
1986 Jay L. Love
N. Birnie Pryor
Kenneth D. Walker, AAP
1984 Worldparts Corporation
Louis A. Zuanich, AAP
1983 ACDelco, General Motors Corporation
Federal-Mogul Corporation
1982 Bank of America
Ford Motor Company