Lifetime Achievement Award in Honor of Martin Fromm
Lifetime Achievement Award in Honor of Martin Fromm
This very selective award recognizes individuals who have, over the course of a career spanning many years, distinguished themselves through their integrity, unselfish commitment to, and high level of performance within the motor vehicle aftermarket industry. Nominees will be considered "backbones" of the industry, individuals who have led great organizations of all sizes and/or industry causes, created jobs and/or opportunities and demonstrated exemplary service to customers, suppliers, peers and the motoring public. Award winners need not be AWDA members.
2021 RECIPIENT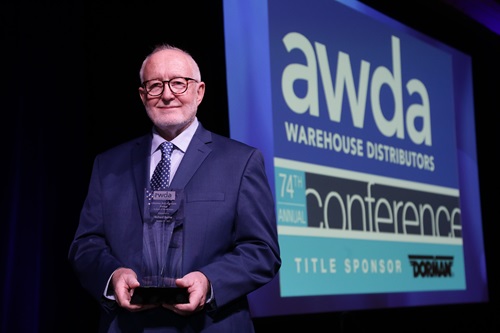 The Automotive Warehouse Distributors Association (AWDA), a community of the Auto Care Association, presented its 2021 Lifetime Achievement Award to Richard Beirne, MAAP, vice president, corporate development, Automotive Parts Headquarters.
With more than 50 years of service to the aftermarket, Richard Beirne has been an active and well-respected industry advocate, applying his leadership skills to some of the industry's most impactful decisions of the 21st century. Beirne started his career in 1968 as a delivery driver for United Auto Supply (UAS). After working in every aspect of the business, he was named president and CEO in 1989. Beirne continued in that role until UAS was acquired by APH in 2015.

Among his many awards, Beirne received the 2004 Art Fisher Memorial Scholarship Award from AWDA for his support of training and education and in 2007, Federated Auto Parts presented him with their Art Fisher Memorial Membership Award. In 2011, Beirne earned AWDA's Pursuit of Excellence Award. Beirne received his MAAP from the University of the Aftermarket in 2016 and along with his wife, Lisa, became Lifetime Trustees of the University of the Aftermarket Foundation in 2019.

'Throughout all those many years, Dick has remained one of my most valued advisors, an incredibly wise and thoughtful man that everyone should listen to and seek to emulate,' said Larry Northup, executive director, AWDA.
Previous Award Recipients
2021 Richard Beirne
2020 E. Fletcher Lord, Jr., AAP
2019 Rusty Bishop
2018 Greg Henslee
2017 Tom Gallagher
2016 Larry Pavey
2015 Michael Lambert
2014 Dale Larson
2013 Walter Spence
2013 Clay Buzzard
2012 Jack F. Creamer
2011 Lawrence I. Sills
2010 Robert J. Susor
2009 Neal L. Williams, Sr.
2008 Richard H. Morgan
2007 Aaron Berkowitz
2006 Arthur E. Lottes, III
2005 David O'Reilly
2004 Kathleen Schmatz
2003 Mort Schwartz
2002 Al Gaspar, AAP
2001 Robert R. Miller
2000 Larry McCurdy
1999 Tim Lee, AAP
1998 Basil Mezines
1997 Robert Raff, MAAP