Outstanding Leadership Award in Honor of Jack Creamer
Outstanding Leadership Award in Honor of Jack Creamer (formerly the Jack Creamer Automotive Leader of the Year Award)
This annual award recognizes an individual, employed in the aftermarket, who over the past several years, has made a unique and monumental contribution to the industry and/or the association. The accomplishment that warrants this award must go well above and beyond any routine or day-to-day activity and shall be reflective of a commitment to the industry that few individuals can match. This award is to be perceived as the industry's highest honor/recognition. Award winners need not be AWDA members.
2021 RECIPIENTS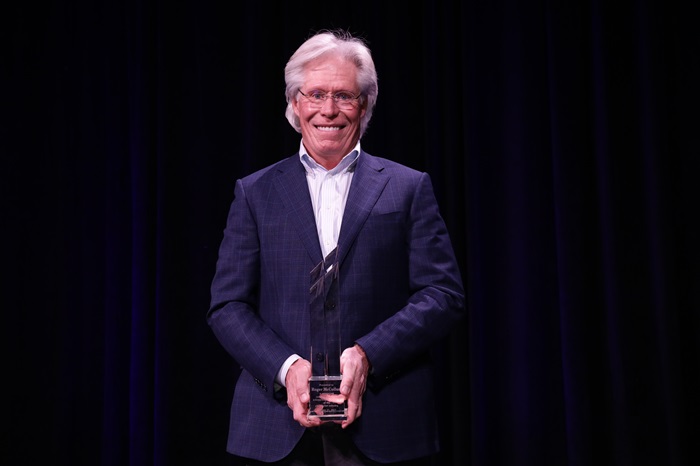 The Automotive Warehouse Distributors Association (AWDA), a community of the Auto Care Association, presented its 2021 Outstanding Leadership Award to Roger McCollum, chairman and CEO, N.A. Williams Company.
In nearly 45 years of dedication to the automotive aftermarket, starting with his first job at a local parts store when he was a college student, Roger McCollum has distinguished himself as one of the industry's top leaders and most committed advocates. Since joining N.A. Williams in 1984, McCollum was elected CEO of N.A. Williams Company in 2007 and Chairman of the Board in 2014, and currently serves in both positions.
McCollum has a long and varied history of volunteer industry service, including positions on the Auto Care Association Board of Directors and Government Affairs Committee. Currently, McCollum serves as chairman of the Auto Care Association Audit Committee; vice chairman of its Political Action Committee (ACPAC) and is a member of the Auto Care Association Nominating Committee. Importantly, McCollum has encouraged and supported the volunteer activities of many N.A. Williams personnel over the years. McCollum also serves on the Automotive Aftermarket Association Southeast (AAAS) Board of Directors and the AAAS Employee Benefit Fund Board of Trustees. In addition, McCollum serves on the Board of Trustees of the University of the Aftermarket Foundation and its Executive and Contribution Committees and chairs the Foundation's Grant Review Committee.

"I have had the privilege of working with Roger for many years and can say without reservation that his commitment to the aftermarket is second to none and absolutely deserving of being recognized with the AWDA's Outstanding Leadership Award," said Bill Hanvey, president and CEO, Auto Care Association and 2020 award recipient.
Previous Award Recipients
2021 Roger McCollum
2020 Bill Hanvey, MAAP / Paul McCarthy
2019 John Bartlett
2018 Larry Pavey
2017 Bill Maggs
2016 Fred Bunting
2015 Larry Sills
2014 Joseph A. Pomaranski, MAAP
2013 Rusty Bishop, AAP
2012 Kathleen Schmatz, MAAP
2011 Dennis M. Welvaert, MAAP
2010 Rollance E. Olson
2009 E. Fletcher Lord
2008 Robert F. Egan
2007 William D. Grote, III
2006 Dr. David Fry
2005 Timothy A. Lee, AAP
2004 John Washbish, AAP
2003 Richard Morgan, AAP
2002 Joe Owen
2001 Michael Cardone Jr.
2000 Jack Creamer, AAP
1999 Tom Gallagher
1998 N. Arthur Epstein, AAP
1997 Aaron Berkowitz
1996 Clay Buzzard, AAP
1995 David O'Reilly
1994 Nathaniel Sills / Bernard Fife
1993 Robert H. Raff, MAAP
1992 Arthur E. Lottes III
1991 Larry McCurdy
1990 Martin Fromm, AAP
1989 O. Temple Sloan
C. Hamilton Sloan
1988 Peter R. Kornafel, MAAP
1987 Robert Sirotek, AAP
1986 Allen C. Richey
1985 Sen. John C. Danforth
1984 R. Jack Alexander Jr.
1983 Charles N. Gaskill, AAP
1982 Elliot Lehman, AAP
1981 Wilton Looney
1980 Mort Schwartz, AAP
1979 Robert Z. Friedman
1978 A.K. Hannum
1977 Basil J. Mezines
1976 Rene C. McPherson
1975 Richard C. Teasel
1974 John M. Yantis
1973 Frederick J. Mancheski, AAP
1972 Frank M. Norfleet
1971 Arthur Wolff
1970 E.N. "Ernie" Robinson
1969 Thomas S. Perry, AAP
1968 H.C. "Skip" Stivers
1967 Olin Ennis
1966 Edward Gammie
1965 C.M. Scates
1964 C.S. Rogers
1963 C.A. Benoit Jr.
1962 Harold T. Halfpenny
1961 Joe E. Bickel
1960 Ira Saks
1959 Victor L. Toft