Joint E-commerce Trends and Outlook Forecast
How much of aftermarket sales is attributable to E-commerce, and what is projected for the next five years?
The Auto Care Association, in partnership with Automotive Aftermarket Suppliers Association (AASA), commissioned the 2021 Joint E-commerce Trends and Outlook Forecast to provide our members with the insights needed to navigate these questions. We are committed to being the first place you go for industry views on how developments like e-commerce may impact your business.
Made possible by the invaluable contributions of our research partners, this study was led by Jefferies, with contributors GCommerce, Hedges & Company, IHS Markit, IMR Inc., and M Science.
All employees of Auto Care Association member companies are provided with a digital copy of the 2021 Joint E-commerce Trends and Outlook Forecast at no cost as a benefit of their membership.
In this study, readers will find: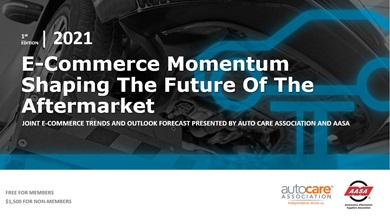 A consolidated view of the e-commerce growth through the year 2025 covering e-tailers from AutoZone to O'Reilly to Walmart;


How quickly the e-commerce market will grow year-over-year through 2025;


E-commerce penetration growth in the automotive aftermarket for U.S. consumers, and how it compares across industries;


Exploration of the differing online purchasing behaviors by generation and demographic; and


The impact of COVID-19 as an accelerant to e-commerce adoption.
Download the EV and E-commerce executive summaries
as delivered to attendees of AAPEX 2021.