Every year, Women in Auto Care awards multiple scholarships for high school and post-secondary female students that are looking at a career in the auto care industry. A cornerstone of the community, the scholarship program was established in 2004 and has grown from $2,000 to more than $100,000 being distributed annually to support the future of our industry.
2020 saw the addition of a new spring program as part of a partnership with Garage Gurus, which made it our biggest year ever despite the economic hardships. In total, 53 women were awarded more than $140,000 in either cash scholarships or tools. We are hoping to continue to grow these numbers in 2021 and beyond!
2022 applications are closed.
Applications for 2023 will open in October.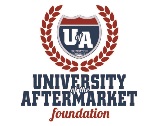 Women in Auto Care is thankful to partner with the University of the Aftermarket Foundation to provide hundreds of scholarships each year. Named a Lifetime Trustee in 2018, Women in Auto Care joins the industry-wide initiative to support the next generation of students entering our business.