Joint Electrification Forecast
When will EVs reach parity with internal combustion engines (ICEs)?
The Auto Care Association, in partnership with Automotive Aftermarket Suppliers Association (AASA), commissioned the 2022 Joint Electrification Forecast to provide our members with the insights needed to navigate these questions. We are committed to being the first place you go for industry views on how developments like EV adoption will impact the industry.
Made possible by the invaluable contributions of our research partners, this study was spearheaded by Strategy&, the strategy division of PwC, with contributors, IMR Inc., S&P Global and YCP Solidiance.

All employees of Auto Care Association member companies are provided with a digital copy of the 2022 Joint E-commerce Trends and Outlook Forecast at no cost as a benefit of their membership.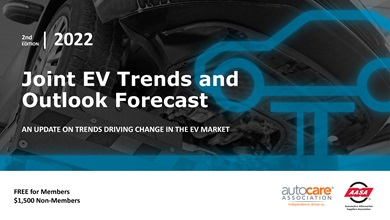 In this study, readers will find:
Projected growth for EV sales and car parc penetration through the year 2045 under three adoption scenarios;


Total cost of ownership (TCO) comparisons between internal combustion engine (ICE) and battery electric vehicles (BEV);


The impact of EV adoption on aftermarket parts sales for major part categories through 2030 and 2045;


The anticipated effect of inflation on the U.S. aftermarket;

The impact of increased Electric & Hybrid Vehicle adoption on service and repair shops;
Data on non-warranty do-it-for-me (DIFM) repair product categories for EVs and more.