The Auto Care Association has released its industry-leading online publications, the 2022 Auto Care Factbook and the 2022 Auto Care Factbook and Lang Annual. The 31st edition has expanded sections on e-commerce, EVs and medium/heavy duty. The Factbook also includes access to interactive, up-to-date economic and industry indicator data via our TrendLens™ platform.
All employees of Auto Care Association member companies are supplied the Auto Care Factbook at no cost digitally as a benefit of their membership.
2022 Auto Care Factbook
coming soon
2023 Factbook release early June
In the 31st edition, readers will find:
New e-commerce section including trends and sizing of this important aspect of the aftermarket including penetration and product category performance standouts;

Expanded data and insights on hybrid, electric and fuel cell vehicles including adoption rates, registrations, and state incentive data;
Expanded medium and heavy duty vehicle data including vehicle counts, proportions, registrations and demand by distribution channel and growing component subgroups;
Our most popular product replacement rate data section has doubled;
Highlights of the Mexican, Chilean and Vietnamese aftermarkets, including VIO and other pertinent stats; and
Guidelines on how to use TrendLens™ to interactively compare data series with our trend comparison tool.
2022 Auto Care Factbook and Lang Annual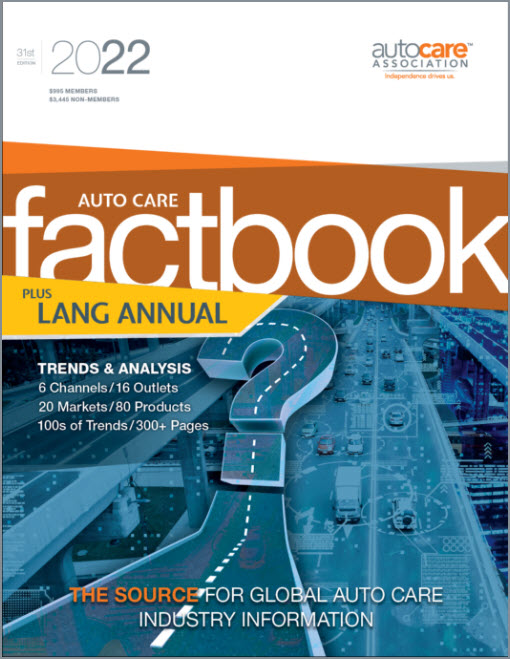 The only publication of its kind, this report includes the Auto Care Factbook plus the Lang Aftermarket Annual. This digital version includes data on light vehicle sales volume for 80 key aftermarket product categories, sales percentage growth, light vehicle product growth and much more.
Download a free excerpt
Enter your info below to learn more about the trajectory of the $400 billion recession-resistant auto care industry and its nearly 25% growth from 2020-2024 in this free one-page document including key excerpts.
Frequently Asked Questions
What is the Auto Care Factbook?
What is the Auto Care Factbook and Lang Annual?
Where can I find part replacement rates, product sales data, industry trends and other crucial data?
Do members receive a complimentary copy of the latest Auto Care Factbook?