Young Executive of the Year Award
Purpose
The Import Vehicle Community honors outstanding young executives in the import automotive industry for his/her dedication, enthusiasm and accomplishments. This award recognizes the leadership and integrity of executives and team leaders under the age of 40.
Qualifications
The candidate must be involved in the automotive aftermarket for import vehicles.
The candidate must have made remarkable contributions to his or her organization, which also have a positive benefit for the import vehicle aftermarket.
The candidate must be known as one whose character and integrity are beyond reproach and admired.
The candidate should be a role model for the future of the import vehicle aftermarket and be actively involved in the Import Vehicle Community.
Self-nominations are not accepted.
Winners will be notified in early September. Award recipients receive recognition at Import Vehicle Community's Luncheon and Awards program during AAPEX and promotion on the Auto Care Association's website, member newsletters, social media, Auto Care Insider Magazine as well as industry media.
The Import Vehicle Community presented the 2019 Young Executive of the Year Award to: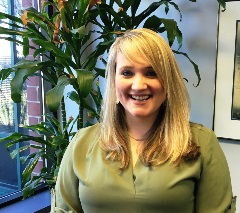 Meagan Moody, e-commerce and marketing communications manager, ZF Aftermarket
Meagan Moody manages the marketing communication activities and strategic brand growth in the United States and Canada for ZF Aftermarket. Joining the company in 2011, she has always had a primary focus on the automotive aftermarket division while supporting other business units across commercial vehicle, on and off-highway and industrial.
In her role, Moody manages the daily internal and external communications and brand placements of ZF brands, including Lemförder, SACHS and TRW, as well as the company's image at tradeshows and overall marketing strategy.
Moody is proud to have been exposed to the root of our industry from the independent jobber and service side, working through high school at a parts store which her grandfather had started in the mid-60s. Continuing her grandfather's work, just in a different manner, is something that keeps her tied to this industry full-heartedly.
In addition to her management roles at ZF Aftermarket, Moody is heavily involved across the industry in multiple association committees and boards. She holds the past president role at the Automotive Communications Council (ACC), current Auto Care Association MarComm Committee member, YANG member and member of the Automotive Aftermarket Suppliers Association's Marketing Executives Committee (MEC), AAPEX Events Committee and Modern Industry eXpertise (MiX).
Moody graduated from Drake University in Des Moines, Iowa, with a dual-B.S.B.A in marketing and international business. She also holds a master of science in integrated marketing communications from Northwestern University.
In her free time, Moody enjoys spending time with her family and working on house projects inclusive of refinishing furniture on the side and interior décor projects. When time allows, she also enjoys traveling and spending time at the range with her Dad.
Previous Award Winners
Brian Cohn (1999)
** (2000)
Jeff Olefson (2001)
Fred Snow (2002)
Pat Suiter (2003)
Todd Patkin (2004)
Eric Michael Breslow (2005)
Matthew Waters (2006)
J. Scott Huston (2007)
Dan Bouchey (2008)
Brian Cruickshank (2009)
John Sanford (2010)
Brian Griffi n III (2011)
Kenny Ho (2012)
Nick Bauer (2013)
Ted Hughes (2014)
Scott Drozd (2015)
Aaron Shaffer (2016)
Naomi Rivas (2017)
Matthias Kopecky (2018)
** Award not presented.