Young Executive of the Year Award
Purpose
The Import Vehicle Community honors outstanding young executives in the import automotive industry for his/her dedication, enthusiasm and accomplishments. This award recognizes the leadership and integrity of executives and managers who carry a significant responsibility under the age of 40.
Qualifications
The candidate must be involved in the automotive aftermarket for import vehicles.
The candidate must have made remarkable contributions to his or her organization, which also have a positive benefit for the import vehicle aftermarket.
The candidate must be known as one whose character and integrity are beyond reproach and admired.
The candidate should be a role model for the future of the import vehicle aftermarket and be actively involved in the Import Vehicle Community.
Self-nominations are not accepted.
2022 Young Executive of the Year Award Winner
Eric Lough
Vice President of Business Development, FCP Euro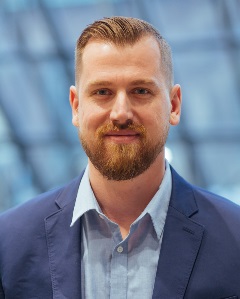 Eric Lough Eric Lough is currently the Vice President of Business Development for FCP Euro. His responsibilities include leading the product and digital catalog team, in addition to identifying and creating opportunities for growth in existing and new spaces. Lough is going on his 16th year in the Automotive Aftermarket and can't imagine being anywhere else.
"My passion for collaboration is driven by my desire to create a connected aftermarket that has the right tools and opportunities to serve our customers in ways that we never thought were possible," said Lough. Lough has been inspired by the industry's most amazing people, having served as the former Vice Chairman of the Auto Care Market Intelligence Committee, former Chairman of the Automotive Content Professionals Network, and is a current member of the Auto Care Technology Standards Committee.
"When I take my professional hat off, I'm a father to my six-year-old son Cooper, and husband to my amazing wife Kristina, who is my inspiration. As a young female entrepreneur, she gives me the courage and inspiration to lead and show up as my best self day in and out," said Lough. "I can't picture myself being anywhere else than in the Aftermarket. The people, the challenges, and the impact we have on the world of motorists keep me coming back for more."
Previous Award Winners
Brian Cohn (1999)
** (2000)
Jeff Olefson (2001)
Fred Snow (2002)
Pat Suiter (2003)
Todd Patkin (2004)
Eric Michael Breslow (2005)
Matthew Waters (2006)
J. Scott Huston (2007)
Dan Bouchey (2008)
Brian Cruickshank (2009)
John Sanford (2010)
Brian Griffin III (2011)

Kenny Ho (2012)
Nick Bauer (2013)
Ted Hughes (2014)
Scott Drozd (2015)
Aaron Shaffer (2016)
Naomi Rivas (2017)
Matthias Kopecky (2018)
Meagan Moody (2019)
** (2020)
Mac Eash (2021)
** Award not presented.