The Auto Care Association and the National Institute for Automotive Service Excellence (ASE) work together to recognize professional technicians who have tested and obtained ASE certification in 22 specialty areas.
Fast Facts
There are an estimated 887,000 technicians in the U.S.
Nearly 250,000 techs are ASE certified
Over 2,200 driven techs have earned World Class status
The World Class Technician recognition was established more than 30 years ago

How to qualify
ASE Testing is computer based at a prometrics center (available all over the country)

Must attain 22 specific ASE certifications to reach World Class

A1-A8 (automotive), T1-T8 (medium/heavy truck), B2-B5 (collision repair), L1, L2 (advanced)

If you have questions about the qualifications, please email: Julie White
How long it lasts
Once you're World Class, you're World Class for life!
What to expect
Individuals who have achieved World Class Technician status are announced in early Spring of the ensuing calendar year
Recipients receive:

A special certificate signed by the presidents of ASE and the Auto Care Association
An exclusive embroidered shoulder insignia
A personalized plaque and medallion kit
Promotion in Auto Care and ASE communications to thousands of industry professionals and media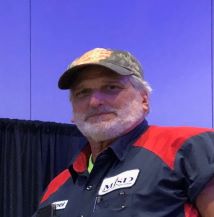 [I was able] to show myself I have the knowledge and skills to be one of the best in our industry and help the younger generations progress their skills through ASE and the Auto Care Association.

Joel Thomas,

Director, Mansfield ISD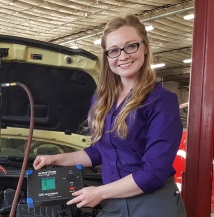 I've always viewed obtaining World Class status as a personal goal rather than a professional goal. It reflects dedication, work ethic, and is one accomplishment that I am most proud of.

Brittany Grande,

General Motors
Attaining ASE World Class Technician certification represents an individual's drive for continuous improvement beyond what is required in a way that is easily recognized without having an existing relationship with an employer or customer base.

Dan Calderone,

Exelon / Atlantic City Electric Utility Fleet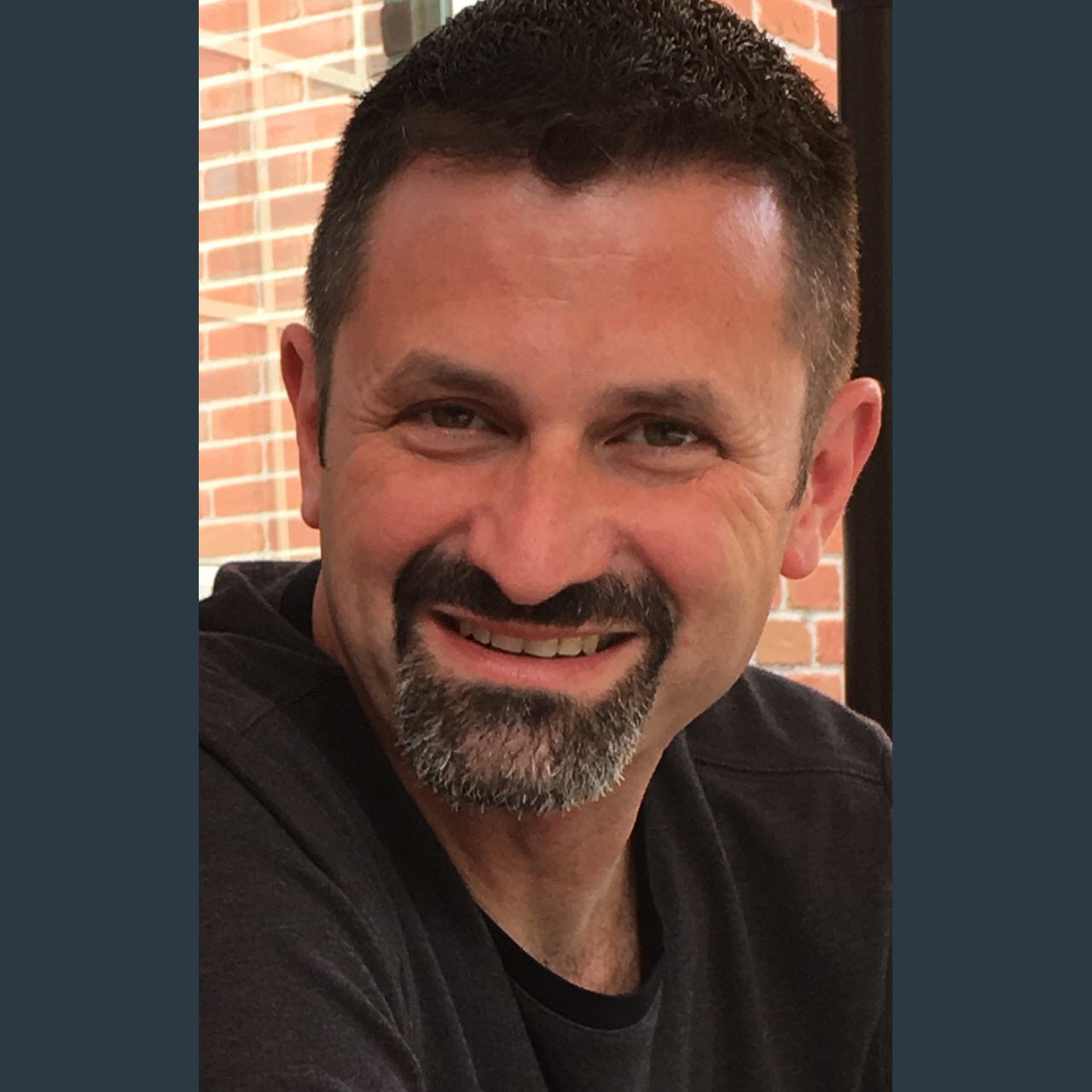 I am very goal-driven and refuse to just settle for average. Knowledge is power. Repairing today's vehicles requires a broad automotive knowledge base. I strive to learn something new every day and push myself to be the best. Being ASE World Class acknowledges my efforts.

Thomas Vettraino,

Addison Auto
2023 world class technician recipients
Anthony H. Caputa – Arnold, Mo.
Arlen Parker Hart – Athens, Ga.
Bobby Leatherman – Stony Point, N.C.
Bradley Kilwy – Plano, Texas
Brian Ward – Denton, N.C.
Bryan Jensen – Apple Valley, Calif.
Craig Wilkins – Fillmore, Calif.
Dale Collins – Orange Park, Fla.
Daniel Hammond – Indianapolis, Ind.
Daniel Indovina – Centennial, Conn.
David Yentema – Macedon, N.Y.
Don Verville – Cape Coral, Fla.
Gordon Marr – Yorba Linda, Calif.
Gregg Brinlee – Detroit, Mich.
Gregory Pheasant – Sparks, Nev.
James Moody – Heber Springs, Ark.
Jarod Johnson – Lubbock, Texas
Jason Kirby – Groveland, Fla.
Jeff Autery – St. Louis, Mo.
Joel A. Pritchard – Warren, Mich.
John Lewins – Nashville, Tenn.
John Vaccarello – Detroit, Mich.
Jon Ewing –Detroit, Mich.
Jorden Ellis – Corpus Christi, Texas

Luke Plant – Edmond, Okl.
Marcus Buchholz – Detroit, Mich.
Mario Monsivais – Houston, Texas
Matt York – Canton, Ga.
Michael Gavrielides – Winterville, Ga.
Nathaniel A. Dillard – Brookwood, Ala.
Paul Bostel – Apple Valley, Minn.
Paul French – Dallas, Pa.
Robert Bridges – Omaha, Neb.
Rodney Prince – Henderson, Nev.
Roger Abbey – Rochester, N.Y.
Russell Andrew Ringling – Warrenton, Va.
Ryan Woods – Old Bridge, N.J.
Sam Mott – Moncks Corner, S.C.
Shawn Williams – Ladson, S.C.
Thomas Kepler – Curtice, Ohio
Tyler Grahl – Newport, Tenn.
Victor Hasstedt – Hollister, Calif.
William P. Link –Virginia Beach, Va.
William Pickham – Bensonville, Ill.

2022 World Class Technician Recipients
Brian M Brownfield — Anna, TX
Conner P Anderson — Frisco, TX
Safadyn A Ramahi — Roseville, CA
Artin Khachatourian — Sylmar, CA
Irfaun A Bacchus — Euless, TX
Scott A Kohart — Broken Arrow, OK, OK
Jason L Manfredda — Pahrump, NV
Bradey Varner — Alamosa, CO
Thomas J Breshears Jr. — Gatesville, TX
Richard J Mcmahon Jr. — Charlton, MA
James T Cassell — North East, MD
Charles R Ferguson — Columbia, TN
Clinton J Mielke — Albuquerque, NM
Howard D Tribby Jr. — Fairfax, VA
Allen Martin — Lead Hill, AR
Wesley J Luther — Bangor, ME
Robert W Morrison III — Abingdon, MD
Russell A Absolom — Pine, CO
James A Waters — Pine, CO
Daniel C Verbeke — Fults, IL
Mark K Munson — Silver Creek, NY
Jason A Mayberry — Pickerington, OH
Don G Kashuba — Sherwood Park, AB
Joe W Moyer — Rochester, MN
Zachery T Evans — Port St. Lucie, FL
Jacob P Sorensen — West Jordan, UT
Jacob D Albertson — Saint Cloud, FL
Adam M Osswald — Hamilton, OH
Richard F Heimerl — Saint Peters, MO
Ryan Matt — Syracuse, NY
Jose A Campos III — Portland, TX
Tim Stanford — Clovis, NM
Tyler M Blake — Mead, CO
Armand J Mayzel Jr. — Woodbridge, VA
Robert R Myrick — Murfreesboro, TN
Mark H Bellerose — Manchester, NH
Joshua C Hernandez Vargas — Manteca, CA
Brian D Dougherty — Huxley, IA
Thomas J Tejeda — Anthem, AZ
Kevin D Rulison — Copperas Cove, TX
Brian M Lacroix — Shaftsbury, VT
Richard E Whiteman — Houston, TX
Sean M Mcdonough — Westminster, CO
Nicholas W Conner — Richland, WA
Karl M Poffinbarger — Hamilton, OH
Howard W Kendrick — Mckinney, TX
Mark J Osoteo — Sacramento, CA
Scott A Lewiston — Metamora, MI
Scott Peterson — Hesperia, CA
Chad M Blythe — Weston, FL
Brad S Hall — Spring Hill, KS
2021 World Class Technician Recipients
Joseph R Indurante — Franklin Park, IL.

Albert Antongeorgi — Catano, PR.
Nestor Bagliano — Mentor, OH.
Gregory G Birtzu — Brampton, ON.
Jason R Breed — Hartland, MI.
Kevin W Brown — Birch River, WV.
Douglas A Burklund — Las Vegas, NV.
Jeff W Butzke — Franklin, KY.
Daniel K Calderone — Milmay, NJ.
Timothy S Clayborn Sr. — Warrenton, VA.
Joseph R Conway — Liberty, NY.
Michael D Fathergill — Hamilton, OH.
Mark V Fera — Wood Dale, IL.
Michael J Finch — East Patchogue, NY.
James S Goff — Riverside, CA.
Michael D Gonzalez — Catlett, VA.
Alex L Goodemoot — Princeton, TX.
Brittany M Grande — Norristown, PA.
Alfred A Hayden IV — Brockton, MA.
John H Howard — Fredericksburg, VA.
Richard G Hoyt — Moultonborough, NH.
Michael R Jenkins — Carol Stream, IL.
Charles B Jennings — Fowlerville, MI.
Ronald E King — Kensington, CT.
David C Lannom — Lakeland, FL.
Thomas S Mancuso III — Fredericksburg, VA.
James E Maxwell — Gallatin, TN.
Michael B O'Guin Jr. — Goodlettsville, TN.
Troy M Olson — Nashotah, WI.
John J Page — Las Vegas, NV.
Jeremy J Pease — Westhampton, MA.
Shaun Philp — Tallahassee, FL.
John C Pinter — Eaton Township, OH.
Charles O Ralston — Valparaiso, IN.
James W Ramsey III — Irving, TX.
Russell Rhodes — Temple, TX.
Nicolas A Rose — Plymouth, MA.
Brent J Runnals — White River Junction, VT.
Joseph W Simmons — Eaton, OH.
Joel E Thomas — Glen Rose, TX.
Thomas A Vettraino — Littleton, CO.
Philip R Younger — Palm Bay, FL.
2020 World Class Technician Recipients
James K Adair Jr. — Phoenixville, Pa.

Jason A Arst — Signal Hill, Calif.

Brian Atwood — Cedar Rapids, Iowa
Clifford Beisler — Conover, N.C.

Rodney B Bennett III — Beaufort, S.C.

Jason P Branch Sr. — Castle Rock, Colo.

Timothy R Burnley — Lewisville, Texas
Brian P. Caycho — Narrowsburg, N.Y.

Scott B Dickson — Jacksonville, Fla.

Chris J Elkins — Adrian, Mich.

Travis C Elliott — Windham, Maine

Mike A Evans — Mesa, Ariz.

Lucas A Ewald — Naples, Maine

Thomas M Flentie — Oak View, Calif.

David J Frank — Flint, Mich.

Hayden E Frazier — Halifax, Mass.

Reuben G Gosewisch — Saint Michael, Minn.

Brian C Grabsky — Lombard, Ill.

Brian S Haskell Jr. — Naples, Maine

Joshua E Hassing — Augusta, Mich.

Robert A Heintz — Hopatcong, N.J.

Matthew E Heller — Park Ridge, Ill.

Dennis L Higdon — Lawrenceville, Ga.

Brandon S Homan — Saint Louis , Mo.

Raymond B Jackson Jr. — Elkridge, Md.

Randall A Kang — Fountain, Colo.

Keith W Kelly — Tipp City, Ohio

Kenneth D Kerbaugh — Needville, Texas

Basil A Konnaris — Oakville, Ontario, Canada

William D Krones — Mason City, Iowa

Shane E Lally — Brookfield, Conn.

Cody A Lana — Riverside, Iowa

Marty J Leach — Imlay City, Mich.

Kevin S Lockhart — Beaverdam, Va.

David R Luka II — Grand Island, N.Y.

Eric J Mattice — Bakersfield, Calif.

Alejandro F Mayorga — Lompoc, Calif.

Jason A Montini — Madison, Tenn.

Angel Morales Jr. — Marana, Ariz.

Ryan E Moraux — Fairhaven, Mass.

Kevin Myers — Weymouth, Mass.

Ryan L Oblak — Saltsburg, Pa.

Fadi E Oweis — Jacksonville, Fla.

John V Paolino Jr. — Pollock Pine, Calif.

Kevin Paradis — Westford, Mass.

Michael J Pritulsky — Mesa, Ariz.

James M Przybylski — Batavia, Ill.

Andrew R Ramirez — Lompoc, Calif.

Mike J Ream — Defiance, Ohio

Michael J Rodriguez — Mansfield Ctr, Conn.

Shannon P Saili — Waipahu, Hawaii

Michael L Sanders — Doyle, Calif.

Michael R Sandmeier — Bel Air, Md.

Michael P Schultz — Torrance, Calif.

Richard Sena Jr. — Youngtown, Ariz.

Gregory S Shelby — Canal Fulton, Ohio

Patrick D Shine — Saint Charles, Mo.
Stuart N. Simmons — O'Fallon, Mo.

Kevin M Speaks — Duncanville, Texas

Meredith D Spencer — Milford, Maine

Daniel J Symeon — Tallahassee, Fla.

Jeffrey W Tinsley — Dickson, Tenn.

Erik C Ulintz — Grove City, Ohio

Angel M Velazquez — Gurnee, Ill.
Nelson Velazquez Jr. — Winfield, Ill.

Steven M Vezensky — Lakemoor, Ill.

John A Warrington — Tolland, Conn.

Cleidus Shawn White — Imperial, Mo.

Jeffrey J Wood — Saint Charles, Mo.

William J Woods — Delta, Pa.
2019 World Class Technician Recipients
Carlos Acevedo Ramos – Bayamon, Puerto Rico
John Adams IV – Euless, Texas
Brian Beauchemin – Cumberland, R.I.
Richard Benson – Houston, Texas
David Boyce – Westport, Mass.
Kevin Brown – Leander, Texas
Michael Campbell – Chicago, Ill.
William Childers – Lizella, Ga.
James Chirichello – Waxhaw, N.C.
Roberto De La Torre – San Juan, Puerto Rico
John Dibartolomeo Jr. – Atco, N.J.
Amos Eaton – Pevely, Mo.
Ryan Egleston – Saint Louis, Mo.
Leroy Fleming – Bel Air, Md.
Luke Franta – Santa Margarita, Calif.
Robert Gouveia – Everett, Mass.
William Gray – Metairie, La.
Travis Guenzler – Catawissa, Mo.
James Hahn – Milwaukee, Wis.
Brad Harder – Emporia, Kan.
Jason Hodge – Saint Charles, Mo.
Tyler Hurt – Debary, Fla.
Scott Jensen – Boynton Beach, Fla.
Steven Johansson – Troy, Mich.
Raymond Johnson – Holly Springs, N.C.
John Jones – Gahanna, Ohio
Steven Kuhr – Moore, Okla.
Brian Lacroix – Medley, Fla.
Kit Mak – Vancouver, British Columbia, Canada
Steven Mcatee – Milton, Ky.
Jeramiah Mihelich – Waltham, Mass.
Michael Mizzi – Willow Spring, N.C.
Frank Naelitz – Lorain, Ohio
Bruno Nicoletti – Portland, Ore.
Matthew Olsen – Burlington, Mass.
William Onessimo Jr. – Rockland, Mass.
David Piper – McKinney, Texas
Kenneth Ratliff – Bethel, Ohio
Robert Reiss – Carnegie, Pa.
Mark Robinson – Mississauga, Ontario, Canada
Steven Sears – East Bridgewater, Mass.
Jacob Shuter – Manchester, N.H.
Michael Springman – Pensacola, Fla.
John Stacey – Whitesboro, Texas
Curtis Walker – Woodland, Calif.
Ryan Weaver – East Falmouth, Mass.
Thomas Wheeler – Lincoln, Maine
2018 World Class Technician Recipients
Michael Aubrey – W. Springfield, Mass.
Thomas Baunach – Bethlehem, Pa.
Bret Beard – Benicia, Calif.
Daniel Beerends – Norwalk, Iowa
Christopher Bellios – Round Lake, Ill.
Kenneth Bridges – Brewer, Maine
Andrew Buehler – Anna, Ohio
Chad Cassidy – Panama City, Fla.
Daniel Clark – New Britain, Conn.
Mark Cossitt – Winston-Salem, N.C.
Jonathan Couch – Porter, Texas
Jonathan Dickerman – Weymouth, Mass.
Mark Esser – Longwood, Fla.
Daniel Gippert – Centerach, N.Y.
Wade Hannah – Adelanto, Calif.
John Hayes – Monroe, Wis.
Thomas Heintz – Gresham, Ore.
Anthony Jackson – Las Vegas, Nev.
Othniel Jordan – Newport News, Va.
Jeff Kahn – Ripon, Wis.
Derek Kershaw – Las Vegas, Nev.
Jay Kurtz – Hilton, N.Y.
Daniel Lopez – Katy, Texas
Christopher Mathus – Reading, Pa.
Josh Mathus – Alton, Ill.
Richard Meyer – Batavia, Ill.
Charles Mielke – Westminster, Md.
Stephan Mohr – Sanford, N.C.
Cory Nation – Las Vegas, Nev.
Steve Navis – Avondale, Ariz.
James Patterson – Dalton, Ga.
Richard Raposa – Marion, Conn.
Steven Schleifer – Rahway, N.J.
Paul Seghposs – Fremont, Calif.
Brian Thibodeau – Washburn, Maine
James Trost – Pleasanton, Calif.
Jean Pierre Widmaier – Evanston, Ill.
Ryan Woods – Sequim, Wash.
2017 World Class Technician Recipients
Dale Banfi, Downers Grove, Ill.
James Bennett, Jr., Norfolk, Va.
Justin Buckler, Mechanicsville, Md.
Karl Chabowski, Rolling Meadows, Ill.
Joe Gould, Hastings, Fla.
Kenneth Grabowski, Rolling Meadows, Ill.
Kelley Hatlee, Gillespie, Ill.
Matt Krull, Lester Prairie, Minn.
Andrew Lewis, Island Lake, Ill.
James Mcleod Sr., Newmarket, Ontario, Canada
Dwayne Myers, Woodsboro, Md.
Gary Sapp, Pensacola, Fla.
John Steinacker, Lamy, N.M.
Tony Tasillo, Moffat, Ontario, Canada
Lewis Vicinus Jr., Millville, N.J.
John Villa, San Luis Obispo, Calif.
Ernest Worner, Plantersville, Texas
2016 World Class Technician Recipients
Chris Alexander, Tunnel Hill, Georgia
John Bridgwater, Castro Valley, California
Michael Corbett, West Jordan, Utah
Daniel Doherty, Springfield, Pennsylvania
Byron Enders, Crestview, Florida
Andrew Harrison, Mechanicsville, Maryland
Brian Hutson, Fort Smith, Arizona
David Jones, Danville, Virginia
Kevin Lang, Manchester, Maryland
Jesse McCurdy, North Las Vegas
Susan Schalk, San Diego
Daniel Wolak, Elk Grove Village, Illinois
2015 World Class Technician Recipients
Richard Bornhorst, Des Plaines, Ill.
David Bourn, Las Vegas, Nev.
Benjamin Brown, Joliet, Ill.
Charles Cole, Colorado Springs, Colo.
Jerry Drake, Tucson, Ariz.
Richard Forstner, Baltimore, Md.
Fred Goodgame, Hesperia, Calif.
Gary Harvey, Cedar Rapids, Iowa
Timothy Kennedy, Streamwood, Ill.
David Lemeilleur, Kerrville, Texas
Robert Macas, Oak Lawn, Ill.
Scott Mcdonald, Hendersonvlle, Tenn.
Bruce Morris, Spring, Texas
Brian Perry, Houston, Texas
Walter Ralph, Bradenton, Fla.
Daniel Riley, Philadelphia, Pa.
Philip Sonnenburg, Grapevine, Texas
About ASE
Established in 1972 as a non-profit organization, the National Institute for Automotive Service Excellence (ASE) is a driving force in the transportation industry. As an independent third party, ASE upholds and promotes high standards of service and repair through the assessment, certification and credentialing of current and future industry professionals, and the prestigious ASE Blue Seal logo identifies professionals who possess the essential knowledge and skills to perform with excellence. Today, there are approximately 250,000 ASE Certified professionals at work in dealerships, independent shops, collision repair shops, auto parts stores, fleets, schools and colleges throughout the country. For more information about ASE, visit www.ase.com.