Automotive Aftermarket Products Expo (AAPEX)
Why do attendees come back year after year?
Access Hands-On Training
ADAS, diagnostics, power steering systems—technology is rapidly changing, and the experts are here to shine a light on what's new in the expanded Joe's Garage, featuring live demos on running vehicles in 10 service bays, a setup you won't find anywhere else!
engage one-on-one
Making the best decisions requires talking through your goals and getting questions answered—and this is the place to meet face-to-face with exhibitors to talk products and make deals
Get a Powerful Preview
To find the perfect product mix for your business, it's critical to shop and compare—and it's easy to do that in specialized areas within a marketplace that covers every major category
Get Real Lessons in Leadership
Employee recruitment and retention, service advisor communication, industry trends, preparation for the unknown—they are among the topics you need to know about to keep things running smoothly for your customers and your business
Meet Your Match
Maximize your time away from work by meeting the who's who of the aftermarket, connect with contacts with similar interests and reunite with current partners—build your profile to get connected
Put New Trends in Rotation
Technology takes different forms in the industry, from the innovation powering vehicles to a heavier focus on e-commerce—get a close-up look at what's now and what's next in product showcases and trend-focused areas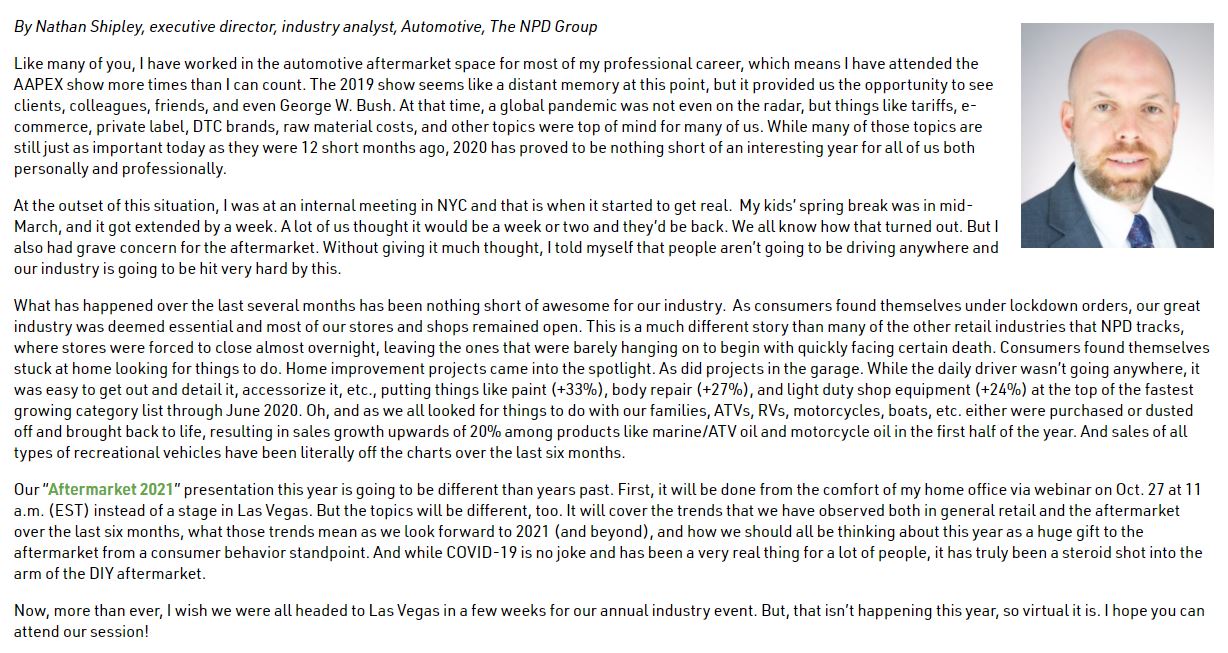 Read the AAPEX Blog for insights from industry experts on vehicle data, trends and market outlook, technology, ADAS and more.
Not everything that happens in Vegas
stays in Vegas
Want a peek under the hood?
See what Auto Care Events take place at AAPEX
AWDA Opening General Session and Manufacturers' Reception
The AWDA Conference invites all participants to the AWDA Opening General Session, highlighting the year's accomplishments and provide a look to the future. An awards ceremony recognizes the contributions of key industry executives, followed immediately by the opportunity to network with some of the industry's most influential members at the Manufacturers Reception.
Learn More
---
AAPEX Reception
Celebrates the official kickoff of AAPEX at the AAPEX Reception, a standing-room-only networking event, with complimentary cocktails and hors d'oeuvres.
---
International Matchmaking Program
The Auto Care Association, in partnership with the U.S. Commercial Service, offers U.S. exhibitors and international buyers a unique opportunity to connect during AAPEX 2022 through the International Matchmaking Program. U.S. exhibitors interested in entering or increasing their presence in international markets, or international buyers interested in connecting with U.S. exhibitors, are welcome to participate. For more information, visit autocare.org/matchmaking.

Learn More
---
Keynote Breakfast
The Magic of Winning
Earvin "Magic" Johnson's winning streak is unstoppable. From his 12-year career with the Los Angeles Lakers — where he clinched five NBA championship rings — to earning an Olympic gold medal as a member of the original Dream Team, plus partnerships with Starbucks, Sony Theaters, and TGI Friday's, Magic is no stranger to success. The trademark tenacity that secured three MVP awards and a spot in the NBA Hall of Fame took him straight to the top of the business world, where he built an empire that spans sports ownership, entertainment complexes, restaurants, retail centers, film and TV production, publishing, and media and entertainment management. Today, as one of the most respected businessmen and philanthropists in the world, Magic makes it his mission to bring economic growth to diverse communities and a message of empowerment to all in the process.
Learn More
---
Import Vehicle Community Luncheon and Awards Program
The Import Vehicle Community Luncheon and Awards Program features an industry update and awards presentation honoring men and women who have made significant contributions to the import automotive aftermarket.
Learn More
Held during the two networking receptions of the PBES Conference, the Innovation Fair showcases products, services and solutions for distributors' needs.
Distributor Features of the Innovation Fair:
Direct and convenient access to many of the industry's top associated product manufacturers
See innovative products and services focused on giving you a competitive advantage
Get to know the manufacturers you support and vice-versa
Free with your registration to the PBES Conference
Vendor Features of the Innovation Fair:
Captive audience of distributor decision-makers and sales reps
Held in conjunction with the highly attended networking receptions
Innovation Fair table costs (does not include attendee registration)

Members $250
Non-Members $500
Price includes one 6' table and two chairs. AV needs are at an additional cost.
General
$150 member
$200 non-member
more details
Benefit 1
Benefit 2
Benefit 3
Benefit 4
VIP
$200 member
$250 non-member
more details
Benefit 1
Benefit 2
Benefit 3
Benefit 4
Benefactor
$250 member
$300 non-member

more details
Benefit 1
Benefit 2
Benefit
Benefit 4
stay up to date with aapex
AAPEX-TV 360 videos
AAPEX-TV 360 keeps you in the know with the latest news and industry trends, checkout highlights from 2022 and get ready for the year ahead.
AAPEX Blog
Visit the AAPEX Blog for insights from industry experts on vehicle data, trends and market outlook, technology, ADAS and more.