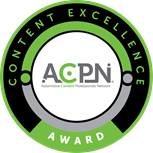 About the Award
This category is for catalog application lookup that is purely browser-based (websites) and does not require any special client-side app to be installed. Web-based catalogs are evaluated on criteria such as design, navigation, use of technology, innovation, interactivity, and quality of content. The content must be data-driven and dynamically presented to the client browser in HTML. Static PDF files are not considered web-based catalogs. Current versions of Chrome, FireFox and Edge will be used by the judges to assess the content. Requiring browser extensions or plugins is acceptable.
Eligibility
Company Type: Manufacturer/Remanufacturer
Company Membership: Auto Care Association member in good standing
Award Format
Judging
This award is judged by a panel of volunteer ACPN Content Professionals, following judging guidelines outlined below.
Each judge scores the submission independently from all the other judges. Each submission is judged on five general areas, with each general area evaluated on specific criteria, and scored using on a scale from 1 to 4. After each general area is reviewed a total score for each general area is arrived at by adding the individual scores of the criteria together, dividing it by the total possible points you could earn, then applying the weight of the general area to it. Then an overall final total score for the submission from the judge is determined by adding the total score for each general area together.
Once all judges have submitted their scores an average of all the judge's scores are taken, and the submission with the highest average score is considered to be the winner.
Submission Requirements
Each parent company may ONLY submit one entry.
At least one representative from the submitting company must be present during the ACPN conference program at the Auto Care Connect Conference to accept the award in the event that the company is selected as an award recipient. If there is no representative present, the company will be restricted from submitting for any awards the following year.
Entries must be received in full by the deadline (Entry Form, Participant Acknowledgement Form)
For questions about this specific award,
please contact ACPN Leadership Council Member:
Adam Phillips
Judging Guidelines
Each submission is judged on multiple general areas listed below with weighted percentages.
If the eligibility requirements listed above are met 100% for the award submission, the following judging guidelines are then utilized to judge the submission.
First Impression
Best Use of Screen Real Estate
Use of Color
Use of Graphics/Logos/Fonts
Consistency/Continuity
Ability to View Images/Digital Assets Where Available
Overall Aesthetic Impression/Professionalism
Overall Ease of Use/Ability to Find What You Need
Speed/Load Time
Logical Organization/Layout
Reasonable Number of Clicks to Find Something
Frictionless
Site Map Provided/Help Features
Filtering and Sorting Capability
Basic Navigation Functions - Search by Vehicle, Taxonomy, Part, Keyword
Part Number Search
Buyers Guide
Product Specifications/Attributes/Features & Benefits
Product Image Coverage
Ease of Cross Reference/Interchange Including OEM Lookup
Schematics/Installation Instructions/Tech Tips
Attractiveness of Mobile Experience
Speed/Load Times
Transitions Between Screens/Functions
Internal & External Links Targeted Correctly
Smart Recommendations (Cross selling based on repair occasion)
Part Alias Search
Lookup by Diagram/System
Search History/Vehicle History Reference
Overall Technical Impression/Professionalism
How to Order/Where to Buy Feature
Tech Support Phone Hotline
Tech Support Chat
Tech Support via Text Message
Tech Support Email
Ability to Provide Feedback/Ask Questions/Report Errors
Originality/Interesting
Other Value Added Catalog Features/Functions (i.e. VIN Code Scan or License Plate Decoder)
Users Will Want to Return to Site for Parts Information
Lasting Impression
highlights from previous award ceremonies
past winners
Each award-winning company is eligible to use the ACPN Content Excellence logo on company literature, mobile apps and websites. Contact ACPN@autocare.org for image files.
Silver - First Brands Group
Silver - NTN Bearing Corporation
Gold - Brembo North America
Silver - Spectra Premium Industries, Inc.
Bronze - Premium Guard, Inc.
Gold - Spectra Premium Industries, Inc.
Silver - Brembo North America
Bronze - Standard Motor Products
Gold - Spectra Premium Industries, Inc.
Silver - Brake Parts, Inc.
Bronze - NTN Bearing Corporation
Gold - K&N Engineering, Inc.
Silver - Mann+Hummel Filtration Technologies