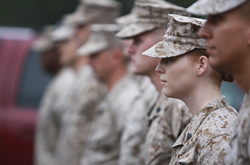 According to military veteran surveys, the biggest challenge veterans have is connecting with hiring managers. The second biggest challenge is finding the right job, which in many cases means translating their military skills to civilian job descriptions.
Research has indicated that hiring military veterans on a local basis is more successful than using a general military veteran job listing website. Here are some in-person options:
Exhibit at a local military job fair:

Your local military-base offers job fairs that your company can participate in. Attendance is free if sponsored by the base itself. If sponsored by an external vendor, such as military.com, they can charge a fee.
Attend a local TAP (Transitioning Assistance Program) class:

TAP was established to meet the needs of separating service members during their period of transition into civilian life by offering job-search assistance and related services.
Employers are able to give presentations to military personnel leaving the service or set up a booth at the TAP center and they will advertise that you will be there.
Advertise on Military Base:

Visit or call your local base and distribute recruiting materials to the career center.
Create a customized event. For example, if you have multiple openings near a base or a new location opening you can call the career center and have a special hiring or screening event. They can send out emails and post the event with your requirements. You can request this be sent out to the spouses and transitioning military members as well.
Advertise to Military Spouses:

There are many resources utilized by military spouses, such as militaryspouse.com, that advertise opportunities and connect military families. They often advertise jobs, charity opportunities and events using their website and social media outlets.
To make your company more attractive to veterans, consider the following:
Market your company as being veteran-friendly;
In your job postings outline the programs your company offers for veterans (orientation, training);
Note the number of veterans in your workforce and provide information on employees who are veterans who have moved up in the company well as their success stories.
Tools to assist in veteran recruitment:
The Department of Labor's Veterans' Employment and Training Service (VETS) can help connect employers to qualified veterans through your state's job banks and your local American Job Center.
The U. S. Chamber of Commerce Foundation's Hiring Our Heroes program offers resources to help companies get access to veterans seeking careers.