Aftermarket Joint Channel Market Size and Forecast Webinar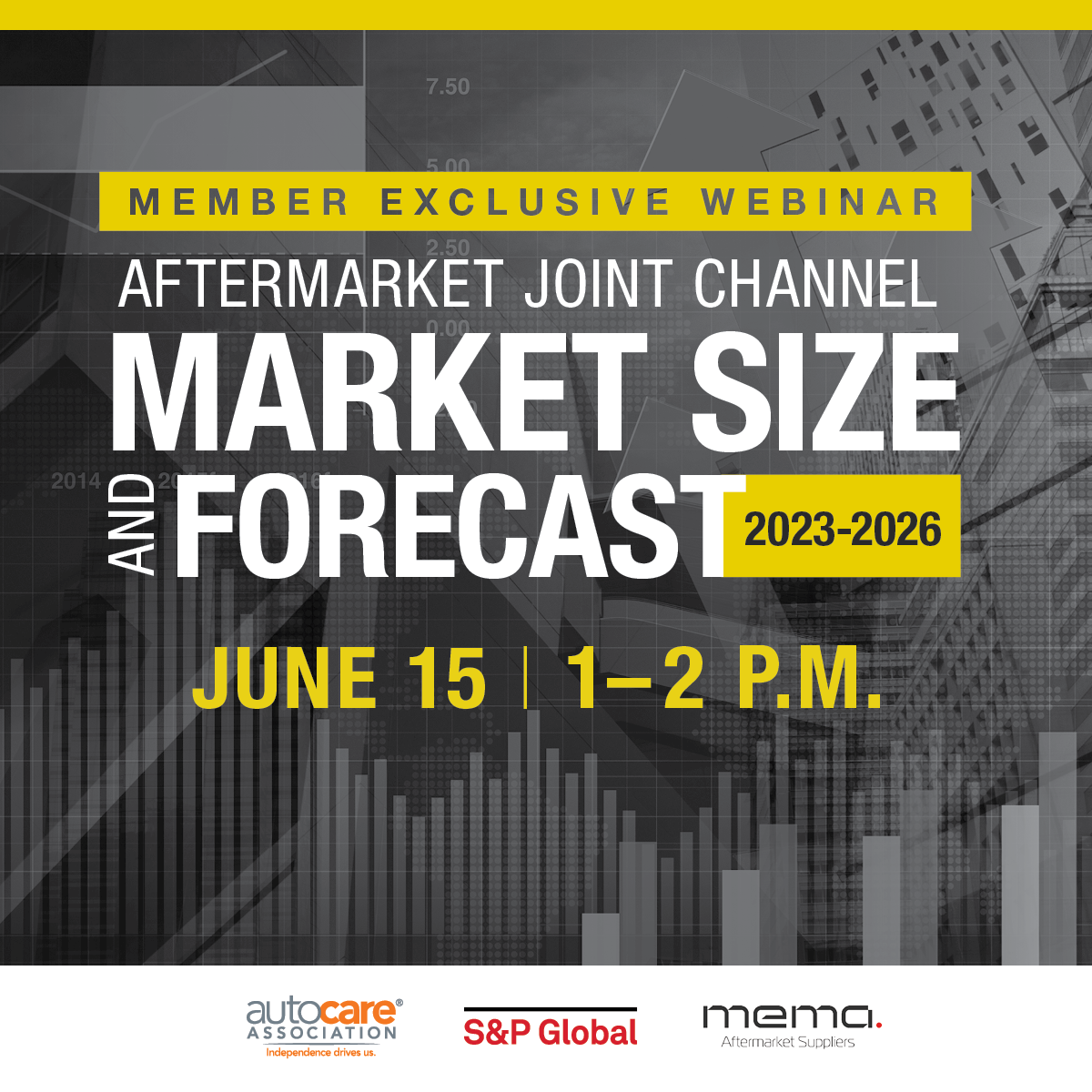 Auto Care Members: Sign-in as a guest when you reach the MEMA registration page.
Don't miss this member-exclusive webinar!
Thursday, June 15, 2023 | 1:00 p.m. - 2:00 p.m. ET
Join the Auto Care Association, MEMA Aftermarket Suppliers and S&P Global on June 15, 2023 for an exclusive in-depth look at the size, growth rate, and outlook for the automotive aftermarket. The Joint Channel Forecast is your key to unlocking growth and staying ahead in the dynamic automotive aftermarket industry. Powered by experts at S&P Global Mobility and in partnership with Auto Care Association and MEMA Aftermarket Suppliers, this comprehensive forecast provides valuable insights and strategic guidance that can fuel your business success.
This data from the Joint Channel Forecast will be shared with members first during this webinar before its annual release to the public on MEMA's website and in the 2024 Auto Care Factbook.

With the Joint Channel Forecast, you gain access to accurate and reliable market projections, channel performance analysis, and emerging trends. Armed with this knowledge, you can make informed decisions, identify growth opportunities, and optimize your business strategies.
By leveraging the data provided in the Joint Channel Forecast webinar, you can align strategy with projected market demands. Stay ahead of your competitors and ensure maximum profitability by accurately anticipating customer preferences, optimizing supply chain management, and identifying untapped market segments.
Ready to unlock the growth potential of your business? Don't miss out on the industry's most trusted and comprehensive forecast. Get access to the Joint Channel Forecast today and join the ranks of successful automotive aftermarket businesses that are driving growth and profitability.
The webinar is free and available only to Auto Care Association and MEMA Aftermarket Suppliers Members, but registration is required.