Automotive Content Professionals Network

To Educate, Inspire and Connect industry professionals who specialize in the management of automotive, heavy duty, equipment, agriculture, and/or powersports product related content.
The Automotive Content Professionals Network (ACPN), a community of the Auto Care Association, is a professional network with 400+ individual members employed in the aftermarket industry. It is the only community devoted exclusively to the educational, professional development, and networking needs of the content professional.
ACPN serves as the leader in content management and related activities; promotes industry data standards; and provides a forum for discussing and promoting best practices within the aftermarket industry, through in-person and virtual educational/networking events.
If you are a content professional in the aftermarket, no matter if you are in automotive, heavy duty, equipment, agriculture, and/or powersports, or just simply want to connect with great people, the ACPN community is the place for you.
Join the ACPN Community for free today and stay engaged and in the know about all things ACPN!
Membership* Includes:
Exclusive LinkedIn Community Space
Newsletters
Access to Events
ACPN Pipeline - 365 Video Content
Awards
Scholarships
Exhibitor Directory
And More!
*To become an ACPN member, individuals must be employed by an Auto Care Association member company. ACPN Membership is a lifetime membership. Members can choose to end their membership at any time by contacting acpn@autocare.org.
do you want to get involved?
Do you have a topic in the areas of technology and content management that you are passionate about and want to educate the industry on? Or do you have a suggested topic or speaker you want ACPN to consider for it's educational programming? There are three ways to get involved.
Click the link below to find out how you can get involved.
ACPN Annual Sponorships
Become an ACPN annual sponsor and show your support of the community, the educational advancement of content professionals across the industry, as well as get your company in front of thousands of content professionals year-round.

The annual sponsorship program offers five tiers of engagement for Auto Care Association member companies only. For more information and to purchase, please visit the link below.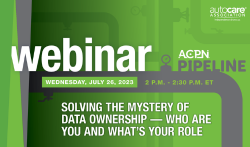 ACPN Pipeline: Solving the Mystery of Data Ownership - Who Are You and What's Your Role

*Recording Now Available!

Join us for an engaging webinar as we dive into the fascinating world of data ownership. In this session, we'll explore the expectations surrounding data, uncover the root causes of miscommunication, and discuss strategies for improvement. Additionally, we'll address the burning question of when we will collectively take accountability for our part in making the Standard better.

*Available to Auto Care member companies only.
The largest gathering of content professionals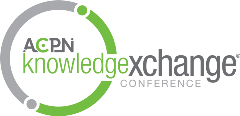 Annual ACPN Knowledge Exchange Conference

May 5 - 8, 2024 | Chicago, Illinois

The annual ACPN Knowledge Exchange conference is the largest gathering of content professionals and their vendors and solution partners.

Attended by most major manufacturers, distributors and parts experts in the automotive content space, the ACPN Knowledge Exchange Conference provides a focused and unique opportunity to learn, share best practices, network with peers, and interact with service providers in the content management space. At the ACPN Knowledge Exchange, content managers can learn how to develop more accurate content, gain insights on more efficient production processes and become aware of new technology and techniques, which will ultimately help them and their companies:

Sell more products
Reduce costs
Increase efficiencies
Learn More
community liaison
Tom Schiavo
Data Quality Manager & ACPN Liaison