Lifetime Industry Achievement Award
Purpose
The Import Vehicle Community Lifetime Industry Achievement award honors individuals whose outstanding performance, integrity, dignity and conscientious approach to business affairs are demonstrated as a matter of routine.

Not intended to honor principals exclusively, the Lifetime Industry Achievement award has been a means by which our industry's high contributors and unsung heroes are credited and appropriately recognized.

There is no limit to the number of individuals who can be honored annually as Lifetime Industry Achievement award recipients, nor is it required that a recipient be named.
Qualifications
The candidate is and/or has been involved in the import parts segment of the aftermarket for a minimum of 20 years.
The candidate must have made significant contributions to their company or employer, which contributions have a positive influence and benefit to the stature and progress of the aftermarket industry.
The candidate must be known as one whose character and integrity are beyond reproach and admired.
Self-nominations are not accepted.
Award Winner
Award winners will be notified by early September. The awards ceremony will take place at the Import Vehicle Community Awards Luncheon during AAPEX on Wednesday, Nov. 2, 2022.
Learn More
2021 Bill Guinard Lifetime Industry Achievement Award
Kevin McCloskey
Vice President of Merchandising, IMC powered by Parts Authority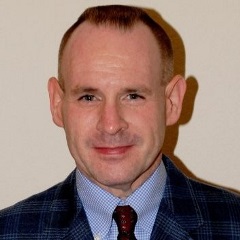 Kevin McCloskey began his career in the automotive aftermarket 32 years ago as a counterman and driver for a foreign car parts jobber. He held several jobs at jobbing locations until becoming a store manager for a Beck/Arnley Import Parts Jobber in Southern California in 1988.
Upon leaving the jobbing business, McCloskey joined Interamerican Motor Corporation (IMC) in 1993 where he still works today. He held positions as sales order desk supervisor, Branch manager, Product manager, Inventory Systems manager, Director of Operations and Purchasing and today he holds the position of Vice President of Merchandising and Customer Satisfaction. In his current role, he is responsible for the strategic growth of IMC's supply chain & customer experience, sourcing and product development, product life cycle management, catalog content (customer experience) and inventory management.
McCloskey majored in Economics and attended Saddleback College from 1986 to 1990 and California State University from 1990 to 1991.
Previous Award Winners
Lifetime Industry Achievement Award
Robin Biggins (1992)
Houston "Howdie" Smith (1993)
Bill Buckley (1994)
Ken Powell (1995)
Steve Murphy (1995)
Charles Coleman (1996)
Albert Cohen (1996)
Mike Taksey (1997)
Bob Calhoun (1997)
Tony Perticari (1998)
George Halford (1998)
Jim Keith (1999)
** (2000)
Bob Tye (2001)
Trevor Musso (2001)
Christopher Kern (2002)
Jerry Brosilow (1926-2003) (2003)
Joe Bagwell (2004)
James E. Berner (1933-2004) (2005)
Gail Volpe (2006)
Bill Guinard (2007)
Daniel J. Lewis (2008)
Hans J. Wulff (2009)
Mary Lynn Nyman (2010)
Dick Berreman (2011)
Chris von Lenski (2011)
Janette Ponciroli (2012)
Peter Klotz (1954-2012) (2013)
Steve Lynch (2014)
Grant Kitching (2015)
Craig Burns (2016)
Stanley Bloomfield (2017)
Wm. "Mac" McGovern (2018)
Rosemary Perry (2018)
Bill Guinard Lifetime Industry Achievement Award
Mario B. Recchia (2019)
** (2020)
Kevin McCloskey (2021)
**Award not presented.