EV Adoption Gains Momentum, E-Commerce Continues to Build
by Michael Chung, Director, Market Intelligence


Electric Vehicle and Infrastructure Developments
In 2021, hybrid and electric vehicles accounted for 9.4% of new light vehicles sold. How many will be sold in 20 years and what percentage of the vehicle population will they account for?
According to our updated
Joint Electrification Forecast
, battery electric (BEVs) and plug-in hybrid electric vehicles (PHEVs) are expected to represent 81% of new U.S. light vehicle sales in 2045 and account for 42% of U.S. vehicles in operation (VIO).

Source: Joint EV Trends and Outlook Forecast (available here)
One interesting development is the anticipated reduction in the total cost of owning an EV – this is driven by lower battery costs due to advancements in battery technology – as pictured below, depreciation of this key component is forecast to reduce, making the total cost of owning an EV less than one powered by an internal combustion engine: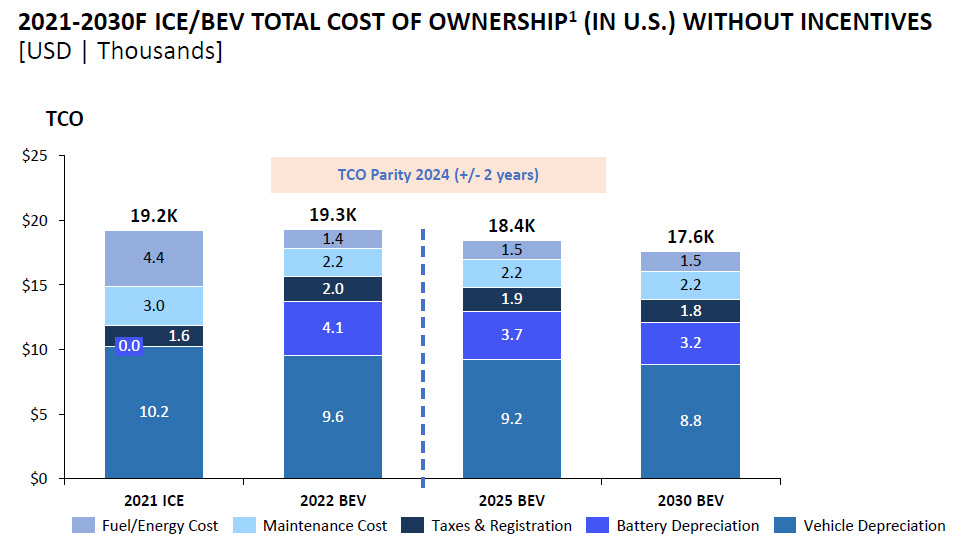 Source: Joint EV Trends and Outlook Forecast (available here)
As we are still relatively early in the implementation of this new technology, issues related to infrastructure and geographic distribution of EVs arise:
•
Infrastructure
: Challenges for fast-charging infrastructure exist – there are 12.5 times more places to refuel a gas-powered vehicle (145,000) than an electric vehicle (11,600, not including nearly Tesla's 16,000 chargers;
The Wall Street Journal
). Distribution of chargers is geographically uneven – Manhattan has 320 stations and only 29 gas stations (
Bloomberg
) – while Minnesota has about 55 non-Tesla charging stations (
The Wall Street Journal
).
•
Accessibility and Reliability
: Problems can compound in remote areas where service technicians may be several hours away, along with the issue of charger operability – in a study of more than 11,500 owners of battery electric / plug-in hybrid electric vehicles in 2022, J.D. Power reported that 20% of study participants did not charge their vehicle while at a public charging location, 72% of whom "due to the station malfunctioning or being out of service" (
J.D. Power
).
The
Joint Electrification Forecast
also includes insights on EV adoption in China, service, and deeper dives into parts growth by category.
E-commerce trends
With Hanukkah and Christmas coming up fast, you may be scrambling to get gifts, possibly online. 2022 U.S. holiday online retail sales hit nearly $240 billion, mostly on Cyber Monday, which became the biggest online shopping day in U.S. history: ~$10.7 billion (
Statista
).
Like other categories, the automotive aftermarket sees continued strength in the e-commerce channel. E-commerce was on an upward trajectory before the pandemic is expected to trend positively in the coming years. In 2022, e-commerce sales of automotive parts hit $37.6 billion and are forecast to grow to $47.9 billion in 2025:

Source: Joint E-commerce Trends and Outlook Forecast (available here)
As we're reported, e-commerce is a complex network of retail providers and third-party auto parts marketplaces – this forecast accounts for first-party and third-party sales through Amazon and eBay, as well as Walmart.com:

Source: Joint E-commerce Trends and Outlook Forecast (available here)
In the medium and heavy-duty vehicle space fleet owners favor purchasing by phone, and the online channel accounts for 13% of parts sales in 2021:

Source: Joint E-commerce Trends and Outlook Forecast (available here)
Regarding consumer behavior, e-commerce has been sticky even as we transition to a post-COVID era. Speaking of which, are we …
Settling toward normalcy?
The pendulum appears to be swinging back to normalcy for a few things:
• Overseas freight rates have come back to earth: rates for Asia-US West Coast, Asia-US East Coast, and Asia-North Europe prices for the week of December 13 are 91%, 80%, and 78% lower than a year ago, respectively (Freightos Weekly Update)
• Used vehicle prices have receded: 1-3 year old, 4-7 year old, and 8-13 year old vehicles are down 8%, 13%, and 13% from their recent highs of $42,375 in July, $31,265 in January, $19,215 in April, respectively.
Lastly, just when you thought you had seen it all when it comes to supply chain shortages, the paper used for automobile titles has become a rare commodity – learn more about this development and recent consolidation in the paper industry in
this article
.
Happy holidays!
If you haven't already shared them, our recent joint reports on
e-commerce
and
EV adoption
just might be the perfect holiday present for your manager (make them look even smarter!), your colleagues (sharing is caring!) and your family, friends, and loved ones (
"More research, please!"
) – the ultimate stocking stuffer :-)
Wishing you and your families, friends, and loved ones the best for a wonderful holiday season – see you in 2023!
Michael Chung, Director, Market Intelligence
Ready to dive into market research? I provide the industry with timely information on key factors and trends influencing the health of the automotive aftermarket and serving as a critical resource by helping businesses throughout the supply chain to make better business decisions. More About Me
Market Insights with Mike is a series presented by the Auto Care Association's Director of Market Intelligence, Mike Chung, that is dedicated to analyzing market-influencing trends as they happen and their potential effects on your business and the auto care industry.
More posts