The Auto Care Association has formed a strategic alliance with both the TechForce Foundation and ASE Education Foundation. Both organizations are focused on recruiting the next generation of technicians for the auto care industry.
TechForce Foundation's mission is to champion students to and through their education and into careers as professional technicians. The foundation harnesses the collective resources of the transportation industry to develop tomorrow's workforce of qualified technicians.
TechForce recently released its New Entrant Technician Demand Report which analyzes Bureau of Labor Statistics data and provides a forecast, year by year, for industry planning purposes in regards to technicians. Read and download the Technician Demand Report.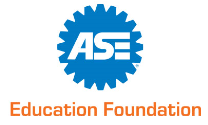 The ASE Education Foundation, a 501 C (3) charitable foundation comprised of the NATEF (National Automotive Technicians Education Foundation) accreditation program and AYES (Automotive Youth Educational Systems) school-to-career model, focuses on the following four key areas:
Accrediting automotive service technology training programs at high schools and post-secondary institutions
Supporting automotive service technology instructors
Building relationships between employers and automotive service technology students at high schools and post-secondary institutions
Philanthropic outreach within the automotive service and repair sector
Employers can find a local NATEF accredited school and program here.