o
o
Advocating for the Industry
Our Government Affairs team represents the industry's complex set of interests before federal and state legislators and regulators, and advocates for policies that are favorable to our member businesses.

Send A Letter to Congress Today!
Take 30 seconds to send a pre-populated message to your local legislator urging them to support right to repair in your home state.
$
497

billion

industry (projected $514 billion in 2024)
4.5
people employed in the industry
292

million

vehicles on the road
Current Issues
Right To Repair
After defeating the automakers in Massachusetts for a second time, we hope that action by voters will spur serious consideration of a data access bill on Capitol Hill to ensure that all U.S. car owners can continue to decide where and how their vehicle is maintained.
View Issue
COVID-19 Relief
We are working tirelessly on the Federal, State and local level to educate officials on how COVID-19 impacts the auto care industry. We have summaries of current federal and state response efforts as well as joint advocacy letters that we have signed onto with other trade associations impacted by COVID-19.
View Issue
National Right to Repair
We advocate for consumer access to and control of vehicle repair and maintenance data. We represent the interests of all drivers, individual car owners and the independent aftermarket industry that serve them. We're fighting to secure choice and put car data back where it belongs – in the hands of car owners.
View Issue
Trade Updates
Resources on U.S. and international trade policy affecting our membership and the auto care industry. Key trade issues include Steel and Aluminum Imports 232 Tariffs, Auto Imports 232 Investigation, Chinese Imports 301 Tariffs and USMCA.
View Issue
Magnuson Moss
Education and action items on the Magnuson-Moss Warranty Act, which prohibits product manufacturers from conditioning consumer warranties on the use of any original equipment part or service.
View Issue
Get engaged with our advocacy toolkit
Working on your behalf
The Government Affairs team meets with state and federal policymakers on a daily basis, pushing for pro-auto care industry policies. However, we need your help. Member advocacy takes many forms, from supporting fundraising efforts to reaching out to your elected officials. We want to empower you to become the most effective advocate you can be. Are you ready to help?
Advocacy is essential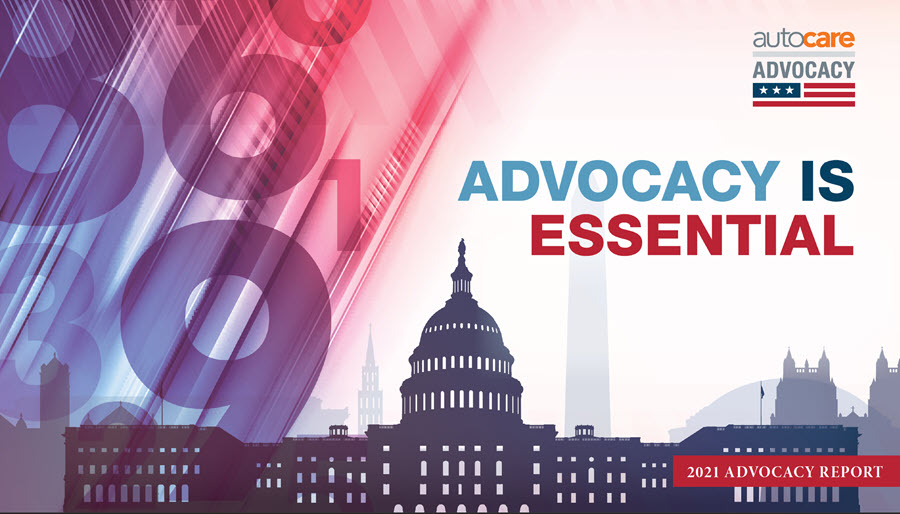 Advocacy is essential, and by adding your voice, our impact adds up. This report details our 2021 efforts across all three facets of advocacy: grassroots, lobbying and PAC. However, in order to be effective, we must have your support and engagement. The 2021 Advocacy Report details ways you can get involved - and we made it as easy as 1, 2, 3.
Frequently Asked Questions
When is the next Legislative Summit?
The next Legislative Summit will take place on September 20-22, 2023, in Washington, DC. The event will include in-depth briefings on the industry's most pressing policy issues and face-to-face meetings with your members of Congress and their staff. You can find more information on the Legislative Summit page. Want to know more about how the Summit goes? We have a recap of the 2019 Summit. If you have any questions about the Legislative Summit, contact Tod Moore.
How do I host my member of Congress at my facility?
First, find your Representative by entering your facility's address here. Then, contact the district office closest to your location and ask to speak to either the District Director or the Director of Constituent Services. Make sure to share with them key facts about your business such as the number of locations and employees and any community programs that you might be involved in. You can also find specific economic data and visit Auto Care's website for talking points on the issues facing our industry. Lawmakers have busy schedules, so try to be as flexible as possible and offer several potential dates for the tour. On the day of the event, remind your staff that a lawmaker is visiting and arrange to have someone take photos. Auto Care is here to help at every stage of this process; let us know that you are hosting a tour and reach out to Tod Moore with any questions.
How can I find out if my member of Congress belongs to the Auto Care Caucus and how do I ask them to join if they are not in the Caucus?
Please see our Auto Care Caucus brief sheet and reach out to Paul Fiore or any other staff member in the Government Affairs department to see if your legislator is on the Caucus or for direction on this critical aspect of our work on Capitol Hill.