Auto Care Association to Host 2024 Auto Care Factbook Webinar
June 9, 2023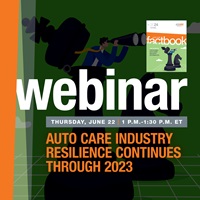 BETHESDA, Md. – June 9, 2023 – The Auto Care Association today announced it will host a webinar providing an overview of its award-winning and industry-leading online publication, the 2024 Auto Care Factbook report. The annual Factbook report provides a comprehensive overview of the entire auto care industry and is slated to be released next week. In this webinar, join Auto Care Association Director of Market Intelligence Mike Chung on Thursday, June 22 at 1 p.m. EDT for an exclusive look at the 33rd edition of the report and an overview of the top-level industry trends.
The auto care industry's resiliency continues in 2023 and there are even more new features in this year's edition of the Factbook. Hear firsthand about the latest updates and insights in this edition of the Factbook and how they can help you and your business, including an extended industry forecast through 2026 by S&P Global.
The webinar will include:

An overview of key data points and trends;

A look at the new features in the 2024 Factbook; and

A live Q&A session on the new edition of the report.
All Auto Care Association members have complimentary access to the Auto Care Factbook report as part of their membership. The report is available for purchase for non-members.

Registration is required for this event. Attendees' questions for Mike Chung about the 2024 Auto Care Factbook can be submitted during registration online.