Dayco Announced as Title Sponsor For 75th Annual AWDA Conference
July 19, 2022
By Camille Sheehan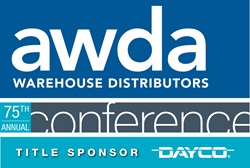 BETHESDA, Md. – July 19, 2022 – The Aftermarket Warehouse Distributors Association (AWDA), a community of the Auto Care Association, has announced that Dayco will be title sponsor of the 75th annual AWDA Business Conference. The conference will be held Oct. 30 – 31, 2022, at The Venetian Resort and Casino in Las Vegas, Nev. The AWDA Conference is an annual business event that brings together the premier companies of the industry for high-level, private, one-on-one business meetings. For 2022, AWDA is honored to have the support and partnership of Dayco Products in celebrating this milestone anniversary conference.
The longevity of the AWDA Business Conference is a testament to the value of the industry and its engaged companies. It is a privilege for the Auto Care Association to carry on this long-standing tradition. "AWDA is one of Auto Care's keystone communities and we are extremely excited to be celebrating this 75th milestone anniversary with the tremendous support of Dayco, a valued member of Auto Care since 1969," said Bill Hanvey, president and CEO, Auto Care Association.

"We're honored to partner with AWDA for their diamond anniversary event. Dayco has been in the industry for more than 100 years, so we certainly understand the magnitude of this achievement and applaud them for their work in the aftermarket," said Tom Tecklenburg, VP of the North American Aftermarket, Dayco. "We continue to evolve our product offerings and services in addition to the way we do business – from voice of customer and usability testing to progressive digital platforms and technologies for both light and heavy-duty applications. We have been and continue to be focused on working closely with the AWDA and its members and have prioritized the development of systems and solutions that make it as easy as possible for customers to do business with Dayco regionally and globally."

As a global supplier of components to vehicle manufacturers around the world, Dayco has been innovating for more than a century. Steadfast in pushing the boundaries of endurance for the vehicles of tomorrow with a rigorous research, development, and testing process, Dayco's products feature the same advanced technology, fit, form and function technicians expect with OE-quality parts. Despite industry and economic challenges over the last two years, the company continues to invest in its biggest asset – its people. With the addition and infusion of a diverse, regional leadership team since 2020 – all with deep roots in the aftermarket and a passion for bringing positive change to the customer experience, the company has introduced and/or expanded eight product lines, launched an industry-leading and award-winning parts lookup, and plans several more solutions-based product introductions over the next six months.

All companies must register for the conference by Aug. 19, 2022, to participate in the AWDA One-on-One meetings. For further details, eligibility, hotel and registration information, please visit autocare.org/awdaconference.
About the Auto Care Association
The Auto Care Association is the voice of the auto care industry, a $435 billion plus industry comprised of more than 4.4 million American workers. Providing advocacy, educational, networking, technology, market intelligence and data resources to serve the collective interests of members, the Auto Care Association serves the entire supply chain of the automotive aftermarket: businesses that manufacture, distribute and sell motor vehicle parts, accessories, tools, equipment, materials and supplies, and perform vehicle service, maintenance and repair. To learn more, visit www.autocare.org.
About Dayco
Dayco is a global leader in the research, design, manufacture and distribution of essential engine drive systems and aftermarket services for automotive, truck, construction, agriculture and industrial applications.
Through its expertise in transferring power quietly and efficiently, Dayco has emerged as the leading global system solutions provider for hybrid electric vehicles. Dayco's 100+ years of experience in drive systems allows the company to equip all customer applications around the world with the most effective drive systems to meet customer specific performance requirements. Dayco's world class global distribution network services the aftermarket industry with a full offering of kits and products to meet each local market's need. Dayco accomplishes this with a dedicated global team that respects one another, shows humility through continuous learning and acts like owners in everything they do.

Dayco has more than 40 locations in 22 countries and over 3,600 associates. For more information about Dayco, visit the company's website at www.dayco.com.