Women in Auto Care Awards Over $175,000 in Scholarships and Tools in 2021
September 9, 2021
By Camille Sheehan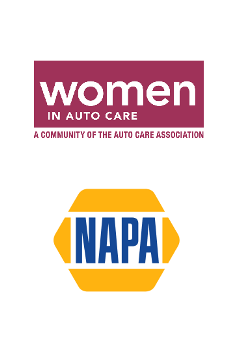 BETHESDA, Md. – September 9, 2021 – Women in Auto Care, a community of the Auto Care Association, awarded more than $175,000 in scholarship funding and starter tool sets to 63 female students across the United States looking to have a career in the auto care industry. The group's scholarship program began in 2004 and has grown to awarding over $100,000 for the fourth year in a row, with 2021 being the program's most successful year to date. Since 2004, Women in Auto Care have given more than $735,000 in scholarships.
"I am thrilled that 2021 marks another record year of giving for Women in Auto Care's scholarship program," said Olivia Newton, chair, Women in Auto Care. "We are so grateful to our sponsors for helping to make this happen."
This year, through the generosity of NAPA Auto Parts, Women in Auto Care was able to support young female technicians in training with over $55,000 in tools. With partners like NAPA stepping up to make a positive impact on the future of our industry, the Women in Auto Care community is confident it can continue to expand these programs for 2022.
"NAPA is a big supporter of Women in Auto Care," said Melissa Stephens, category manager, NAPA. "I thought this was a great opportunity to pair two things I am passionate about: Women in Auto Care and Carlyle Tools, our proprietary brand. Not only were our partners glad to help such a great cause, it allowed me the opportunity to speak to them about Women in Auto Care and how the women within its organization could get involved."

Pictured above is scholarship winner Dezire Grafton, student at Chemeketa Community College in Salem, Ore.
The 2021 Women in Auto Care scholarship recipients include:
Abbygail Oertel – Stratford, Wis.
Alicia Gardner – Enterprise, Ala.
Alyssa Warfield – Indianapolis, Ind.
Amber Treadway – Jefferson, Ga.
Anah-Dayna Torres – El Paso, Texas.
Angel Hill – Cleveland Heights, Ohio
AnneMarie Byerly – Bremerton, Wash.
Aspyn Stanley – Herriman, Utah
Aubreigh Burley – Bellevue, Neb.
Ava Cooksley – Waucoma, Iowa
Brenna Bruns – Greenfield, Iowa
Caitlin Bettez – Deering, N.H.
Cecilia Ledesma – El Monte, Calif.
Cherokee Hall – Sanford, N.C.
Chloe Ohara – Gasnvoort, N.Y.
Claudia Hook – Salem, Ore.
Courtney Goldstein – Roseburg, Ore.
Daniela Rivera Cambron – Atlanta, Ga.
Dezire Grafton – Salem, Ore.
Elisse Richardson – Dexter, Mich.
Elizabeth Ellis – Louisville, Colo.
Ellena Benavidez – Albuquerque, N.M.
Emelie Horsens – Cecil, Wis.
Emily Belden – Scottsburg, Ind.
Emily Sparks – Tiro, Ohio
Emma Ragon – Glen Rose, Texas
Ericka Ward – Pittsburg, Kan.
Esperanza Murguia – San Dimas, Calif.
Gabriella McCaffrey – Little Egg Harbor, N.J.
Giselle Pena Cortez – Sacramento, Calif.
Hannah Armstrong – Shamrock, Texas
Hannah Mendelson – Raleigh, N.C.
Heather Kilby – Pueblo, Colo.
Ione Casais – Bayonne, N.J.
Isabella Scoggin – Athens, Ga.
Jennifer Ruiz-Torres – Sicklerville, N.J.
Jillian Haver – Omaha, Neb.
Kaelyn White – Brush Prairie, Wash.
Kaitlynn Barg – Bolingbrook, Ill.
Kasey Tarantino – Pennsburg, Penn.
Katelyn Fair – Milan, Mich.
Katlyn French – St. Charles, Mo.
Kayla Tollis – Coraopolis, Penn.
Keeley Whitmer – Cumming, Ga.
Liane Sharry – Whiting, N.J.
Lindsey Powell – Ravena, N.Y.
Madalyn Tillage – Gloucester, Va.
Makena Gaylor – Eagle Point, Ore.
Mariela Henderson – Kaysville, Utah
Mary Sarofaliyeng – Kingwood, Texas
Megan De Jesus – Stockbridge, Ga.
Morgan Burmahl – Camanche, Iowa
Nadji Remer – Tucson, Ariz.
Natalia Torres – Olmsted Falls, Ohio
Natalie Barcalow – Fort Wayne, Ind.
Nayelli Rocha – San Benito, Texas
Nicole Helin – Maynard, Mass.
Nushrat Ahmed – Cambridge, Mass.
Parie Gerold – Burlington, N.C.
Samantha Seufer – Weissport, Penn.
Skye Stackhouse – Kintnersville, Penn.
Stacy Long – Spring Hill, Fla.
Stassa Cappos – Pismo Beach, Calif.
Women in Auto Care thanks its sponsors, donors, membership, University of the Aftermarket Foundation and NAPA for their contributions and support of the scholarship program.
For more information about Women in Auto Care, please contact Jessica Finnerty, staff liaison, Women in Auto Care, at
jessica.finnerty@autocare.org
or visit the
Women in Auto Care webpage
.