AWDA, HDDA: Heavy Duty Announce Integration
November 17, 2020
By Camille Sheehan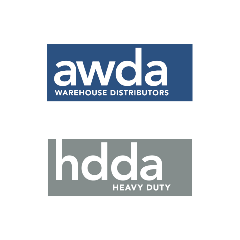 BETHESDA, Md. – November 17, 2020 – The Automotive Warehouse Distributors Association (AWDA) Board of Governors and the HDDA: Heavy Duty (HDDA) Advisory Council have announced the culmination of a months-long effort to unite two of the Auto Care Association's largest communities: HDDA: Heavy Duty and AWDA.
Collectively, the AWDA and HDDA leadership recognized that the issues and challenges that bind heavy-, medium- and light-duty aftermarket distributors together far outweigh the differences between the two aftermarket communities. The decision to unite the two communities under the Auto Care Association was met with overwhelming support for this coming-together.
Recognizing that aftermarket distribution is constantly evolving, the board of AWDA also made the significant decision to rename the 73-year-old association. Going forward, AWDA will now be known as the "Aftermarket Warehouse Distributors Association."
"Many, if not most, distributors serving the motor vehicle aftermarket offer products that are used to service light-, medium- and heavy-duty vehicles," said Mauro Cifello, chairman, AWDA. "This name change brings AWDA into alignment with that reality."
"Although distributors compete in a free and open marketplace, the challenges they jointly face demanded that all aftermarket distributors and their great suppliers work together to present a unified voice to counter the well-established threats that we face from vehicle manufacturers, overzealous government regulators, massive on-line parts sellers and other forces yet unseen," said Bill Hanvey, president and CEO, Auto Care Association.
As a unified community under the Auto Care Association umbrella, and with the association's guidance and essential support, the new Aftermarket Warehouse Distributors Association (AWDA) can take advantage of marketplace opportunities and resources that will present themselves in the future. These could include data and technology tools, advocacy efforts, critical market intelligence, education and networking resources and much more.
"Together, all our distributor members will learn from each other, jointly support common causes and will open lines of communication that heretofore may never have existed. The future for the AWDA community and our heavy duty members is very bright indeed!" said Cliff Hovis, chairman, HDDA Advisory Council.
To learn more about the Aftermarket Warehouse Distributors Association (AWDA), visit the AWDA webpage or contact Larry Northup, executive director, AWDA, at larry.northup@autocare.org.