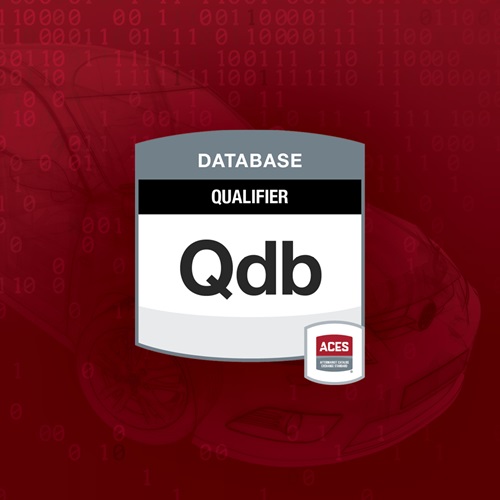 Qualifier database (Qdb)
The Qualifier database (Qdb) is a fully normalized, relational database, that is used in conjunction with Aftermarket Catalog Exchange Standard (ACES®).
The Qdb helps to standardize fitment terminologies and expressions, also known as Qualifiers, used in catalog and web lookup's which require a vehicle or equipment lookup to navigate a correct product(s).
Qdb qualifiers replace free-form text notes with consistent terminologies and expressions, in a coded manner, reducing redundant notes and inaccurate interpretation of unlimited free text formats.
The use of the Qdb streamlines communication making it easier to parse data into catalogs and increases the search-ability of data. Users can apply validation to Qdb data increasing reliability over free-form text which cannot be validated in scalable ways.
Increased speed to market. Using coded qualifiers from the Qdb enables trading partners to load content faster, promoting faster speeds to market and increased sales.
Faster selection of the correct part at the counter. With standardized coded qualifiers, catalogs are easier to understand and navigate by both end consumers and store sales associates. This means finding the correct products the first time, reducing returns.
More sophisticated data management opportunities. Coded qualifiers enable simplified data mapping between different sources. Different sources may include OE data and VIO (vehicles in operation) data. Increased mapping accuracy promotes better product management decisions.
Centralized language translation. Utilization of coded qualifiers will facilitate a centralized translation effort.
Qualifiers not covered by a vehicle attribute will be contained in the Qdb. In general, only individual qualifiers are stored in the table. You can create compound expressions by joining multiple entries from this table. A placeholder (i.e. parameter) will replace variable data found in a qualifier. This mechanism greatly reduces the number of qualifiers stored in the table.
our documentation
how you can get involved
The Qualifier database (Qdb) documentation found below is the latest version of the database documentation. This version, and all versions, are designed and maintained by the industry, for the industry, through industry workgroups and the guidance of the Technology Standards Committee (TSC).

Documentation includes:
Data Rules and Policies
ER Diagram
Note: Our documentation is available to the public. To view and download documentation, please sign-in with your autocare.org login information to the Auto Care Digital Hub. If you do not have a login, please create an account.
There are multiple ways to get involved in the development and management of the Aftermarket Catalog Exchange Standard (ACES®) and Product Information Exchange Standard (PIESTM) data standards, as well as their supporting relational databases.
Auto Care Communifire
This platform allows users to join discussions and workgroup calls that are centered around the Aftermarket Catalog Exchange Standard (ACES®) and Product Information Exchange Standard (PIESTM) data standards and their supporting relational databases. Users can communicate issues, as well as areas of improvement, to continuously develop the standards to meet the demands both of today and tomorrow. Creating an account is free. Join today!
Education and Networking
The Automotive Content Professionals Network (ACPN), a community of the Auto Care Association, is a professional network with 380+ individual members employed in the automotive industry. It is the only community devoted exclusively to the education and professional development needs of the automotive content management professional.
ACPN serves as the leader in content management and related activities; promotes industry technology standards; and provides a forum for discussing and promoting best practices within the automotive industry all of which will culminate in their annual Knowledge Exchange conference.
The Qualifier database (Qdb) and all other ACES® and PIESTM data standards supporting relational databases, can be managed and downloaded through the Auto Care Vehicle Information Portal (VIP).
The VIP platform allows users to view the contents of the Qdb, submit changes to existing records, request new records, as well as download the published database.

Publication Cycle: Weekly
Release Notes: Click here
The Qualifier database (Qdb) requires an annual paid subscription.
Note: Access to the VIP site does not require a paid active subscription. However, access to certain products within the site will require an active paid subscription. To access the VIP site, users are required to create an autocare.org account. Click here to create an account.
Ready to create and/or receive ACES® XML files for your products?
| | | | | |
| --- | --- | --- | --- | --- |
| | STEP 1 | | Subscribe to Reference Databases | |
| | STEP 2 | | Download Documentation | |
| | STEP 3 | | Create and/or receive ACES® XML files for your products! | |
Translations covering North, South and Central America are now available!
Auto Care Association offers translations for the data standards supporting databases (VCdb, Qdb, PCdb and PAdb) in the following languages:
Spanish
Canadian French
Portuguese
Subscribing to these translation databases provides users the ability to easily translate the coded content within an ACES or PIES XML file.
Visit the subscriptions page to subscribe!