ACPN Opens 2024 Content Excellence Awards
November 15, 2023
By Zoi' Holloway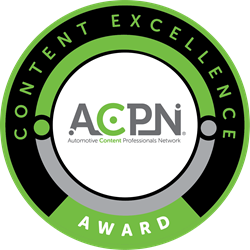 BETHESDA, Md. – November 15, 2023 – The Automotive Content Professionals Network (ACPN), a community of the Auto Care Association, announced the opening of the 2024 ACPN Content Excellence Awards. The ACPN company-based awards recognize best in class examples of ACES® and PIES™ data standards use and compliance as well as electronic cataloging and content in B2C platforms in the Aftermarket.
New for 2024, the ACPN Leadership Council is pleased to announce the addition of the ACPN Content Excellence "Trailblazer Award," which recognizes annually a single individual who leads, innovates, and provides remarkable contributions to the ACPN and content management communities, to content management and supporting technologies, and the auto care industry. This award is presented and managed by the Automotive Content Professionals (ACPN) Leadership Council and the Technology Standards Committee (TSC).
The 2024 ACPN Content Excellence Awards consist of five categories:
*NEW* Trailblazer Award

ACES® and PIES™ Data Award - Year, Make, Model Applications Only (BaseVehicleID)

ACES® and PIES™ Data Award - Manufacturer/Equipment Model Applications Only (EquipmentBaseID)

Web-based Catalog Award

Receiver's Choice Award
Each year, ACPN Content Excellence Award winners are announced and recognized at the ACPN conference programming during the Auto Care
Association's annual Auto Care Connect Conference. The Auto Care Connect event is the largest gathering of content professionals and their business solution partners. The 2024 Auto Care Connect event will take place May 5 – 8, 2024, at the Hyatt Regency Chicago in Chicago, Ill.
"It's with incredible honor that our ACPN Leadership Council, the Technology Standards Committee (TSC), and I bring you this year's first ever Trailblazer Award!" said ACPN Chair Chelsea Scally of S&P Global. "The ACPN Leadership Council and the TSC thought there's no better time than now to recognize the outstanding leaders we surround ourselves with each and every day in this great community. We look forward to recognizing this year's inaugural recipient at the 2024 Auto Care Connect Conference in May."
To be considered for and to receive an ACPN Content Excellence award, the submitting company or individual must attend the 2024 Auto Care Connect event.
The deadline to submit award entries is Jan. 26, 2024.
For more information about ACPN, the awards, including criteria, eligibility and how to enter or nominate each Content Excellence award, and award entry forms, visit the ACPN awards webpage or contact acpn@autocare.org.