Auto Care Association to Host a Live Session of Market Insights with Mike on Inflation and Inventory Trends
September 13, 2023
By Zoi' Holloway
Bethesda, Md. – September 13, 2023 – The Auto Care Association today announced it will host a live Market Insights with Mike session on Thursday, October 5 at 1 p.m. EDT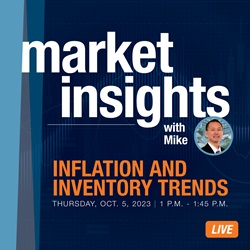 with Auto Care Association Director of Market Intelligence Mike Chung. In this webinar, he will share survey results of Auto Care Association members on how companies across the value chain have adapted their pricing practices, inventory and supply chain management, and other aspects of their operations and strategy over the past three years.

"Since the COVID-19 pandemic started in 2020, we've seen how supply chain issues have impacted our industry. In the past year, the economy continued to throw curveballs such as high inflation and increased interest rates. We wanted to understand how companies across the industry have pivoted. I'm excited to bring our members the very first live session of Market Insights," said Michael Chung, senior director, Market Intelligence. "If you find the blog posts resourceful, you don't want to miss this webinar!"

In this exclusive discussion regarding Inflation and Inventory Management Trends, attendees will learn how:

Aftermarket companies have adapted to higher interest rates and high inflation; and

How economic conditions have changed over the past few years.

The webinar is open to all auto care industry professionals and the recording will be available on-demand only for members in the Auto Care Digital Hub. Register for the webinar
here
.