Regional Product Group Data Doubled for over 80 Categories in Auto Care Demand Index
August 22, 2023
By Zoi' Holloway
BETHESDA, Md.
– August 22, 2023 – The Auto Care Association today announced a significant expansion in the data coverage of its exclusive Demand Index tool. Part of the TrendLens™ interactive data platform, over 80 Demand Index product groups will now encompass data from nine U.S. geographies, up from the initial four, offering a broader, more comprehensive view of the auto care landscape across the country.
Demand Index helps aftermarket companies know how their products are performing against the market with the only tool that provides hard part and other parts performance data from point of sales transactions.
This expansion underscores Auto Care Association's commitment to providing members and industry stakeholders with the most accurate, up-to-date insights into market demands and trends. By more than doubling the geographic data points, the Demand Index tool now offers more ways to visualize and analyze the latest data, allowing automotive aftermarket businesses to tailor their strategies accordingly.
Subscribing industry manufacturers receive automatic access to the enhanced market insights including segmentation of the data in both unit and dollar indices for the regions to track down trends and view even more granular perspective on regional variations in sales.
Consistent with the U.S. Census Bureau divisions, the nine geographic regions include: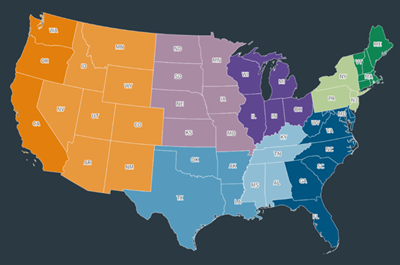 PACIFIC
California
Oregon
Washington

MOUNTAIN
Arizona
Colorado
Idaho
Montana
Nevada
New Mexico
Utah
Wyoming

WEST NORTH CENTRAL

Iowa

Kansas
Minnesota
Missouri
Nebraska
North Dakota
South Dakota

EAST NORTH CENTRAL

Illinois
Indiana
Michigan
Ohio
Wisconsin

MIDDLE ATLANTIC

New Jersey

New York
Pennsylvania

NEW ENGLAND

Connecticut
Maine
Massachusetts
New Hampshire
Rhode Island

Vermont

WEST SOUTH CENTRAL

Arkansas
Louisiana
Oklahoma

Texas

EAST SOUTH CENTRAL

Alabama
Kentucky
Mississippi
Tennessee

SOUTH ATLANTIC

Delaware
District of Columbia
Florida
Georgia
Maryland
North Carolina
South Carolina
Virginia
West Virginia

Current Demand Index subscribers can log in to instantly access the new data at
trendlens.autocare.org
.
Demand Index is only available for purchase by eligible manufacturers. To learn more about the tool and eligibility, visit
autocare.org/demandindex
or
fill out this form
to talk to one of our experts.