YANG Announces 2023 Leadership 2.0 Scholarship Recipient Cynthia Talamantes
June 26, 2023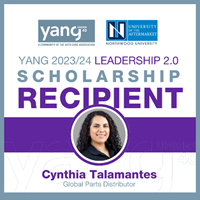 BETHESDA, Md. – June 26, 2023 - The Young Auto Care Network Group (YANG), a community of the Auto Care Association, has selected Cynthia "Cindy" Talamantes of Global Parts Distributors to represent YANG at the highly-acclaimed University of the Aftermarket's 2023-2024 Leadership 2.0 Program. Leadership 2.0 is the premier post-graduate style leadership and business skills education program designed to promote the development of the next generation of auto care leaders. The Leadership 2.0 program will take place in Summer 2023 and Spring 2024. The Leadership 2.0 scholarship is generously funded by the University of the Aftermarket Foundation.
YANG's 2023 Leadership 2.0 Scholarship Recipient
Talamantes is the creative director of sales and marketing at Global Parts Distributors (gpd) in Macon, Ga., where she applies her creative talent and communication and technical design skills to boost sales, training, and customer support initiatives. Throughout her professional career, Cindy has been a champion for legislative advocacy and community involvement. She currently volunteers with the Auto Care Association's Marketing and Communications committee and is Secretary of the Central Georgia Technical College (CGTC) Automotive Advisory Council.
"As the aftermarket evolves to meet the demands of a new era, young professionals are presented with a unique opportunity to find new solutions without seeing the barriers that come with experience," said Talamantes.
Developing Future Industry Leaders
The Leadership 2.0 program is the automotive aftermarket industry's cornerstone educational program that fosters the development of a new generation of visionary auto care executives. The program is an intense and intellectually-challenging two-week executive development and learning experience deeply rooted in the theoretical and practical application of auto care leadership principles. It features well-known speakers and invaluable networking opportunities with top-level industry leaders.
Graduates of the program receive 7.0 CEUs toward their Automotive Aftermarket Profession (AAP) designations and Master Automotive Aftermarket Professional (MAAP) designations. The scholarship is valued at $6,650 and covers the price of tuition, class materials and meals.
Leadership 2.0 is comprised of two, five-day sessions. Session I will be held Aug. 20-24, 2023, at the Northwood University campus in Midland, Mich., and Session II is held in Raleigh, N.C., March 10-14, 2024, in Raleigh, N.C.
Research, Best Practices and Industry Trends
Leadership 2.0 is facilitated by Northwood University faculty, senior aftermarket executives and industry leaders. The Leadership 2.0 experience includes:
industry research and market analysis;
lively discussion and debate on the challenges confronting the light vehicle and heavy-duty aftermarket;
competitive strategies;
interpersonal communication skills;
contract negotiations;
conflict resolution;
organizational culture;
cybersecurity best practices;
insight into supply chain solutions; and
other challenging and evolving industry topics and trends.

For more information about YANG or additional YANG scholarship opportunities, visit autocare.org/yang or contact Mary Ieng, community liaison, at mary.ieng@autocare.org.