Kim Nolan of BBB to Talk "Leadership as a Trailblazer" in Next YANG Under-40 Virtual Event
August 4, 2022

Bethesda, Md.- August 4, 2022 —The Young Auto Care Network Group (YANG), an under-40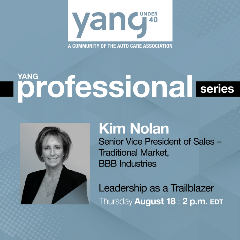 community of the Auto Care Association, has announced the next guest in their virtual networking series for YANG members and mentors. The YANG Professional Series is a virtual event that brings together YANG members to discuss critical issues, hot topics and opportunities in the automotive aftermarket.
Each hour-long session features an industry leader sharing their perspective on an important issue of the day.
The next YANG Professional Series event will take place on Thursday, Aug. 18, from 2 p.m. – 3 p.m. ET and will feature Kim Nolan, Senior Vice President of Sales – Traditional Market, BBB Industries. Nolan will discuss the topic of leadership as a trailblazer in the automotive aftermarket.
Kim Nolan is the Senior Vice President of Sales, Traditional Market for BBB Industries. Her current role involves managing an approximate $200M territory across the United States, including being responsible for a team of 10 and managing 10 outside sales agencies. Prior to BBB Industries, which she joined in 2006, Kim worked alongside her father for 17 years in their remanufacturing business, Genco Auto Electric.
Kim is very active in the auto care industry and currently serve as co-chair of the Women in Auto Care Member Engagement Committee as well as on the University of Aftermarket Scholarship Review team. In 2020, she was recognized in the inaugural class of Women at the Wheel.
Registration is required to attend this event. Register here.
This event is limited to YANG community members. Not a member? Join YANG here.