'Associations in Motion' Roundtable Discussion Brings Together Global Automotive Aftermarket Associations
August 19, 2021
By Camille Sheehan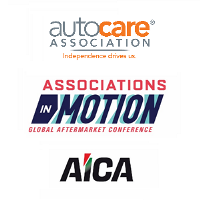 BETHESDA, Md. — August 19, 2021— On June 22, 2021, the Auto Care Association and the Italian Garage Equipment Manufacturer's Association (AICA) jointly hosted Associations in Motion. Fifteen automotive aftermarket associations from around the globe participated in a virtual program sharing, discussing and collaborating on opportunities and challenges within the automotive aftermarket industry. Association participants were surveyed before the event to better understand and ensure discussion topics are relevant and of interest to attendees from different markets.
The event featured two topics followed by a roundtable discussion:
Evolution of the Automotive Aftermarket and Emerging Technology
Presentations from Thierry Coton, European Garage Equipment Association (EGEA), and Jean-François Champagne, Automotive Industries Association (AIA Canada)
Association participants discussed new technology and disruptors related to connected vehicles, access to data and electric vehicles and the importance for the aftermarket to adapt to the complexity of tomorrow's vehicle.
Association Revenue Diversification
Presentation from Stuart Charity, Australian Automotive Aftermarket Association (AAAA)
Association participants discussed how the COVID-19 pandemic has impacted traditional association revenue, including trade shows and events, and the importance of diversifying programs and revenue streams.
Association participants included:
Argentina:

Asociación de Fábricas Argentinas de Componentes (Argentinian Component Manufacturers Association) (AFAC)

Australia:

Australian Automotive Aftermarket Association (AAAA)

Brazil:

Sindicato da Indústria de Reparação de Veículos e Acessórios do Estado de São Paulo (Vehicle and Accessories Repair Association Sao Paulo) (SINDIREPA)

Canada:

Automotive Industries Association (AIA Canada)

Chile:

Cámara Chilena de Comercio de Repuestos y Accesorios Automotrices A.G. (Chilean Chamber of Commerce-Automotive Parts and Accessories) (CAREP)

China:

China Automotive Maintenance and Repair Trade Association (CAMRA)
SINOMACHINT

Colombia:

Asociación del Sector Automotriz y Sus Partes (Automotive and Parts Sector Association) (ASOPARTES)

European Union:

European Garage Equipment Association (EGEA)

India:

Automotive Component Manufacturers Association of India (ACMA)

Italy:

Italian Garage Equipment Manufacturers Association (AICA)

Mexico:

Asociación Nacional de Representantes, Importadores y Distribuidores De Refacciones y Accesorios Para Automoviles, AC (National Association of Importers and Distributors of Automotive Spare Parts) (ARIDRA)
Industria Nacional de Autopartes (National Autoparts Industry Association) (INA)

Turkey:

Turkish Automotive Aftermarket Association (OSS)

United States of America:
"The Auto Care Association had the privilege to co-host the Associations in Motion roundtable discussion with many automotive aftermarket associations from around the globe," said Bill Hanvey, president and CEO, Auto Care Association. "This is an important platform for industry leaders to openly share ideas, discuss issues and work together to advance the global automotive aftermarket industry."
During this unique moment in time when the pandemic continues to disrupt supply chains and reshape the worldwide economy, the Associations in Motion event is an opportunity for automotive aftermarket associations to discuss emerging trends and share experiences on topics of common interest like best practices, member engagement, market intelligence and more.
Associations in Motion will be held as a semiannual event with the second assembly to be hosted as a virtual event in November 2021. The Auto Care Association looks forward to engaging with more industry associations to represent the global automotive aftermarket industry.
Learn more about the Auto Care Association's international initiatives by visiting autocare.org/international or by contacting Angela Chiang, director, international affairs, at angela.chiang@autocare.org.