Registration Open for 2021 Upholstery and Trim International Council Convention in San Antonio, Texas
June 25, 2021
By Camille Sheehan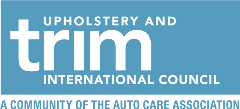 BETHESDA, Md. – June 25, 2021 – The Auto Care Association today announced registration is now open for its 56th annual Upholstery and Trim International Council (UTIC) Convention. The event will be held Oct. 13-15, 2021, at the Hyatt Regency Hill Country Resort & Spa in San Antonio, Texas. The UTIC Convention is an annual business event that brings together the premier companies of the upholstery and trim industry for high-level, private, one-on-one business meetings and quality networking events that foster peer relationships and build and strengthen business opportunities.
Featured highlights of the 2021 UTIC Convention include:
Top-Quality Meetings: Pre-scheduled private, one-on-one business meetings with high level representatives from premier companies (From the 2019 Convention, 46% of the exhibiting companies brought their president, CEO or owner)
Exclusive Show Specials: Over a dozen exhibiting companies have already pledged to offer exclusive show specials to the attendees of the 2021 UTIC Convention. (Full list available on the UTIC webpage)
*NEW* Exclusive Wholesaler-Only Networking Reception: UTIC wholesaler attendees will have the opportunity to attend an exclusive reception to network, collaborate, learn from one another and build peer community. (Please note the UTIC Convention is now offering both member and non-member pricing for wholesaler attendance to the convention)
Guest Event: Return of the popular Guest Event sponsored by Ardwyn Binding Products Company
Industry Luncheon: Attendees will hear from Auto Care Association President and CEO Bill Hanvey.
All companies must register by Sept. 17, 2021 to participate in the UTIC one-on-one meetings.
For further details, eligibility, hotel and registration information, please visit autocare.org/uticconvention.