Auto Care Association's TrendLens™ 2.0 Update Brings New Features, Product Performance Data, Business-Friendly Pricing
September 2, 2020
By Camille Sheehan

BETHESDA, Md. – September 2, 2020 – Market performance has never been more important than it is today—with the amount of uncertainty and volatility looming over the United States economy, knowing exactly how products are performing compared to the market is essential to optimally running an aftermarket business. TrendLens™ 2.0, the Auto Care Association's updated interactive data platform, grants users access to more product performance data at a price-point that works for manufacturers of all sizes.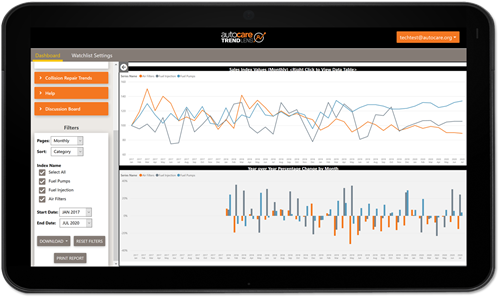 *NEW* Product Performance Groups
The TrendLens™ platform's Demand Index tool tracks unit-level point of sales transaction data for select product groups. The 2.0 update now gives users access to an additional 26 new product groups, not only including entirely new groups, but also more specific product groups for easier analysis.
"Giving TrendLens™ users market performance data that better aligns with their range of products will enable manufacturers to better communicate with their distributors and more proactively prepare for potential shifts in consumer and shop demand in the future," said Behzad Rassuli, senior vice president, strategic development, Auto Care Association.
The 26 new product groups include:
Air Filters;
Brake Pads;
Brake Rotors;
Control Arms;
Hub Bearings;
Intake/Exhaust Manifolds;
Shocks;
Struts;
Wheel Bearings;
And more!
*NEW* Cross Analyze Data
TrendLens™ now allows users to cross-analyze all TrendLens™ data, including economic and industry indicators such as Vehicle Miles Driven or Consumer Sentiment with any available product groups in the Demand Index. "With the new fitted double y-axis feature in TrendLens™, you can now compare datasets with different scales, like vehicle miles driven versus gasoline prices," said Daniel Zenko, director, data innovation, Auto Care Association. "Users can now see all their TrendLens data within the "Trends Comparison" and "Indexed Comparison" sections of the TrendLens™ Economic and Industry Indicators—transforming TrendLens™ into each user's very own aftermarket insight sandbox."
*NEW* Business-Friendly Pricing
To make sure that all manufacturers in the auto care industry can benefit from the TrendLens™ Demand Index tool, the Auto Care Association is introducing two new TrendLens™ subscription packages. The "TrendLens™ Product" package is tailored to manufacturers producing a limited scope of products and gives these businesses access to two Demand Index product groups. The "TrendLens™ Product Plus" package is tailored to manufacturers producing a larger scope of products and includes four Demand Index product groups. Now manufacturers of all sizes can stay competitive with detailed market performance data.
For more information about the TrendLens™ platform and to learn how your business can benefit from this data solution, visit the TrendLens webpage or contact Scott Howat, business development executive, Auto Care Association, at scott.howat@autocare.org.