5 Things I Learned from YANG'S Professional Development Series with Randy Buller and John R. Washbish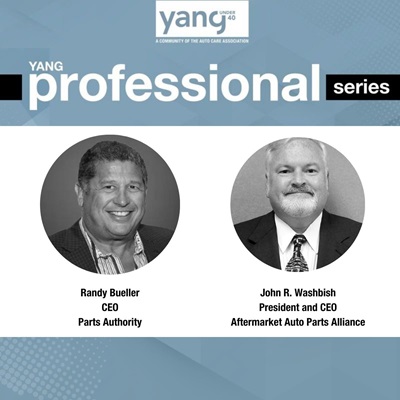 ICYMI, YANG's newly launched virtual Professional Development Series brought together aftermarket young professionals and industry leaders for an hour-long discussion on current industry issues. On February 24th, Randy Buller, CEO of Parts Authority, spoke on company culture amid acquisitions and on March 31st, John R. Washbish, President and CEO of the Aftermarket Auto Parts Alliance, shared wisdom on leading through change.
Here are 5 things I learned from these sessions to give you zero reasons for missing the next one!
1. Nothing is more important than relationships.
We all know relationships build business. No matter what career level you're at, acts of appreciation (a handwritten thank you note, a birthday card, passing a compliment) can go a long way.
2. Learn to listen.
Big problems start out small the same way small ideas can make a big impact. You can ALWAYS learn from others.
3. "You may NOT ALWAYS BE RIGHT, but you SHOULD ALWAYS BE SURE."
When it comes to presenting a new idea or a "big ask", be sure of your numbers, your plan, and yourself.
4. "If you make enough calls, you'll get a date."
In the face of failure, remember that one failure is simply a new opportunity.
5. The best place to start is on the bottom.
There's something uncomfortable yet exhilarating about starting a new journey. As the aftermarket evolves to meet the demands of a new era, young professionals are presented with a unique opportunity to find new solutions without seeing the barriers that come with experience.
Every month, YANG hosts a new business leader in the YANG Professional Series. To attend, visit our YANG page and scroll to "upcoming events."

The YANG Effect newsletter is your quarterly "pit stop" for all things Automotive Aftermarket contributed to and written by under- 40 industry professionals.
More posts
More about YANG
Home for the auto care industry's dynamic and vibrant community of under-40 professionals. YANG provides its members with the opportunity to network with industry peers, develop new skill sets and improve leadership capabilities.
Learn More
Interested in contributing?
Content Contributions are always welcome! Keep us updated on your career and company endeavor.
Learn More