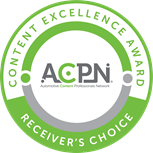 About the Award
The Receiver's Choice award recognizes organizations that are supplying high quality content including ACES, PIES, digital assets and other customer specific formats. Honorees are selected by content receivers who support ACPN for their exemplary content and are leading the way in integrity, accuracy, timeliness, completeness, best practices and other proprietary specific judging criteria.
Eligibility
Company Type: Manufacturer/Remanufacturer
Company Membership: Auto Care Association member in good standing

Award Format
One Recipient Per Receiver Company
Judging
These awards are judged by participating content receiver companies utilizing the judging guidelines outlined below and potentially additional criteria that is specific to the way they conduct business.
Submission Requirements
No submission required to be considered
Please contact your content receiver to see if they are participating in this year's receiver's choice award ceremony at the annual ACPN Knowledge Exchange Conference to be considered for this award.
Judging Guidelines
If the eligibility requirements listed above are met 100% for the award submission, the following minimum judging guidelines, which were established by the ACPN Committee and agreed to by the Data Receivers participating in the award, are utilized to judge. Note that many of the Data Receivers have additional criteria that is specific to the way they conduct business to determine their winners.
ACES delivery specifications are consistently being followed
Part numbers must be accurately reflected in all application records
Comments do not repeat values already identified within the Vehicle ID or Part Type/Position ID
Comments do not conflict with Vehicle ID or Part Type values
Usage of the most descriptive part types
No Overlaps (Applications missing distinctions that allow for a clear choice of 1 part over another) Minimal Duplicates (Applications with same parts repeated using different notes/qualifiers)
Includes all applications for a given Part Number
Includes all applications for a given Part Terminology
Supplier assumes responsibility for data provided by a third-party company
Provides images and supporting image translation files
Other content to be loaded by the Data Receiver
Provides data in a timely fashion without being asked to send the data
Stays current with Auto Care Association or Data Receiver vehicle and part type tables
Stays current with Data Receiver's monthly deadlines
All data fields contain the proper type of information, no combinations
Part numbers are applied to the proper Part Types
Updates are sent in a consistent manner
Adhere to Data Receiver's required record format
Supplies all Data Receiver's required file identification information
Provides current PDF or paper catalogs to Data Receiver as required
Maintain consistent data frequency
Resolves data issues in a timely manner according to Data Receiver's requirements
Frequent communication with Data Receiver to provide information on upcoming changes and updates
highlights from previous award ceremonies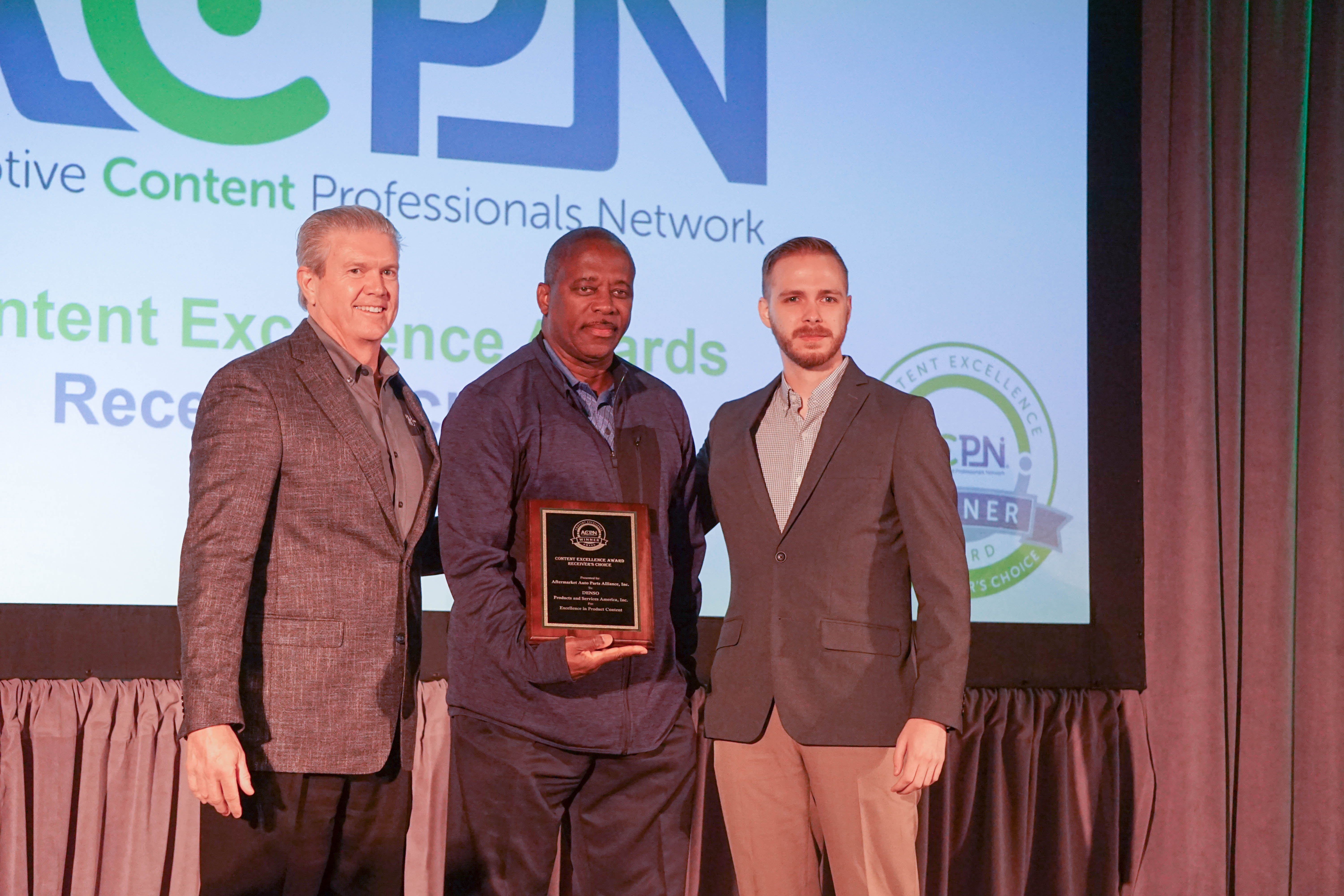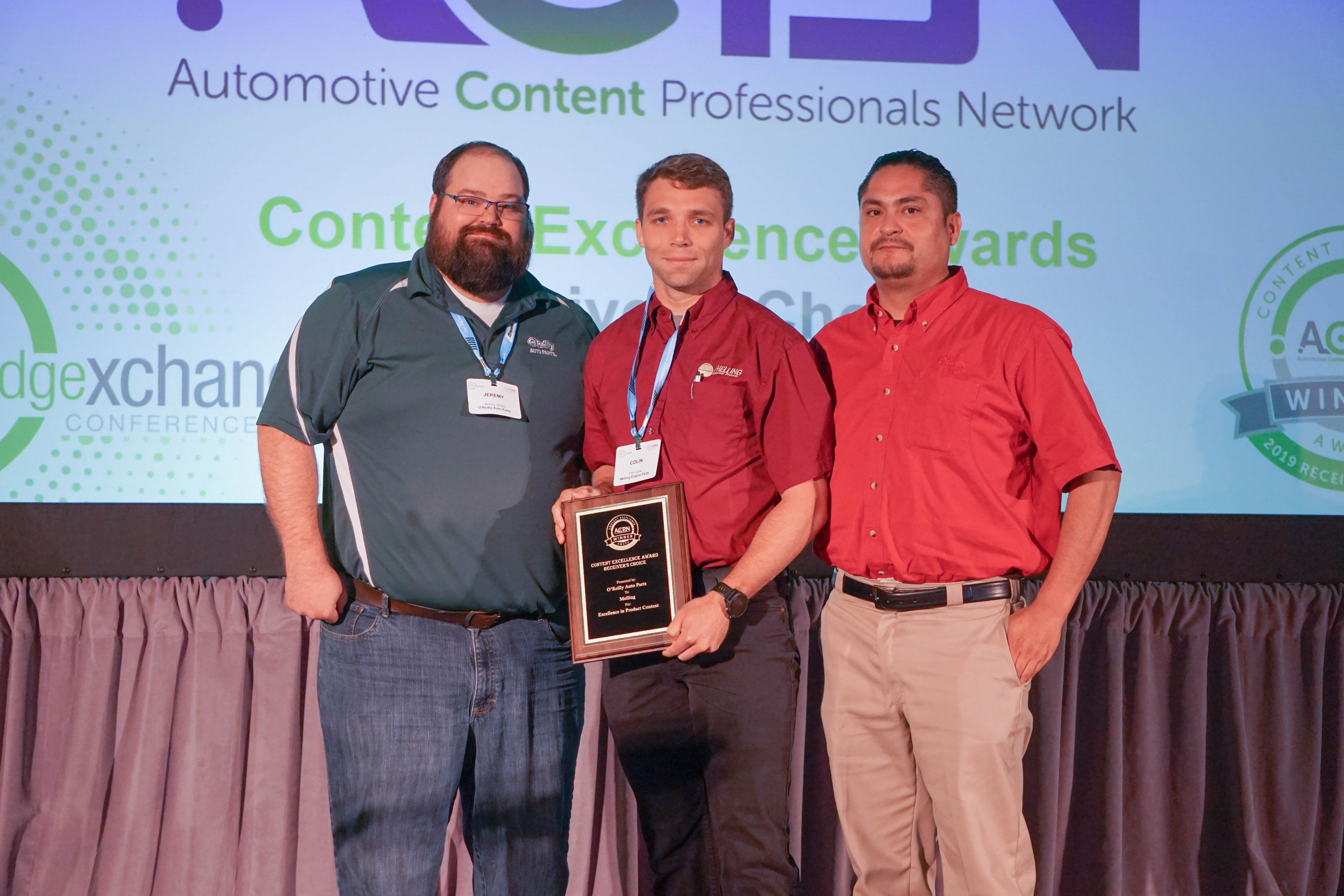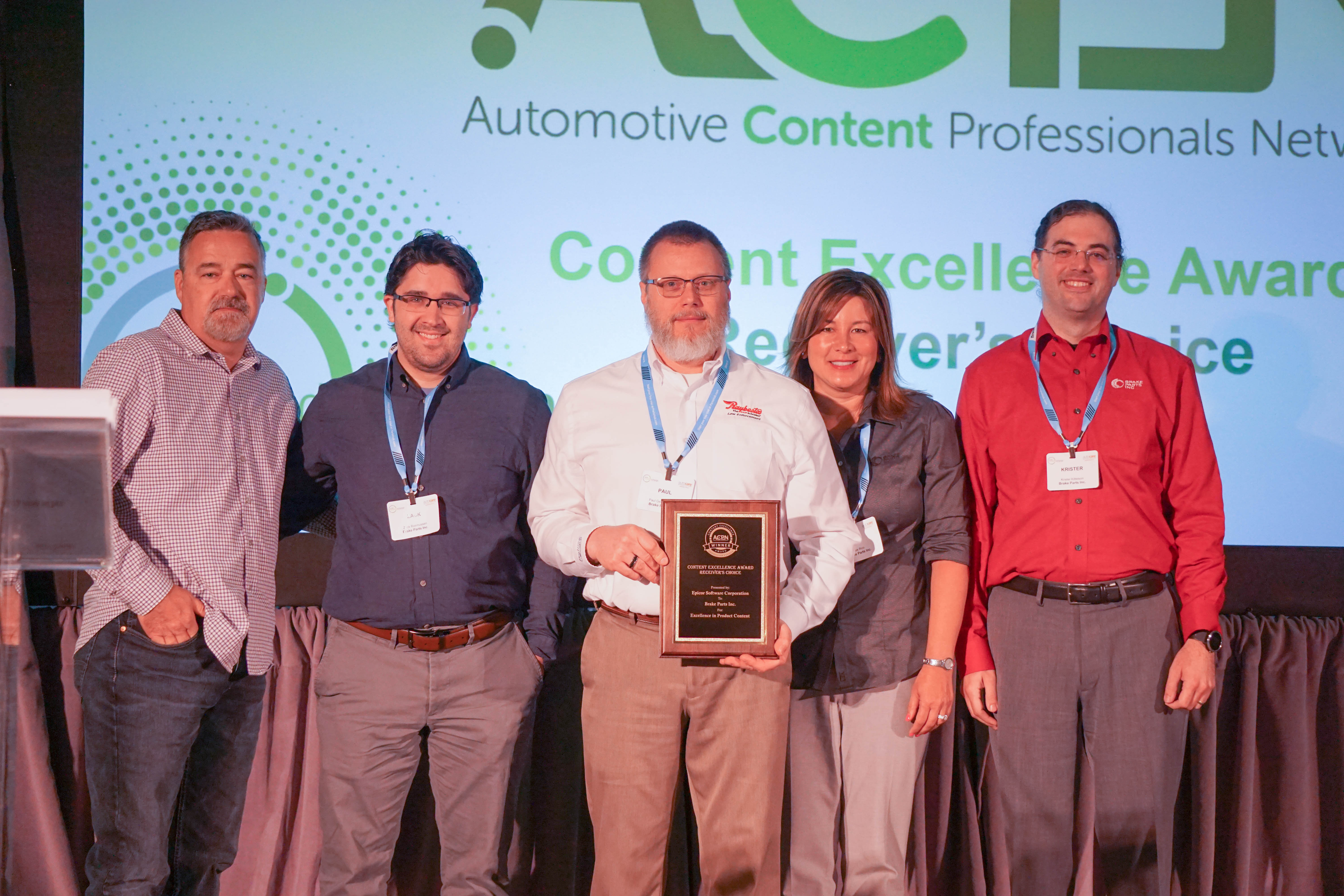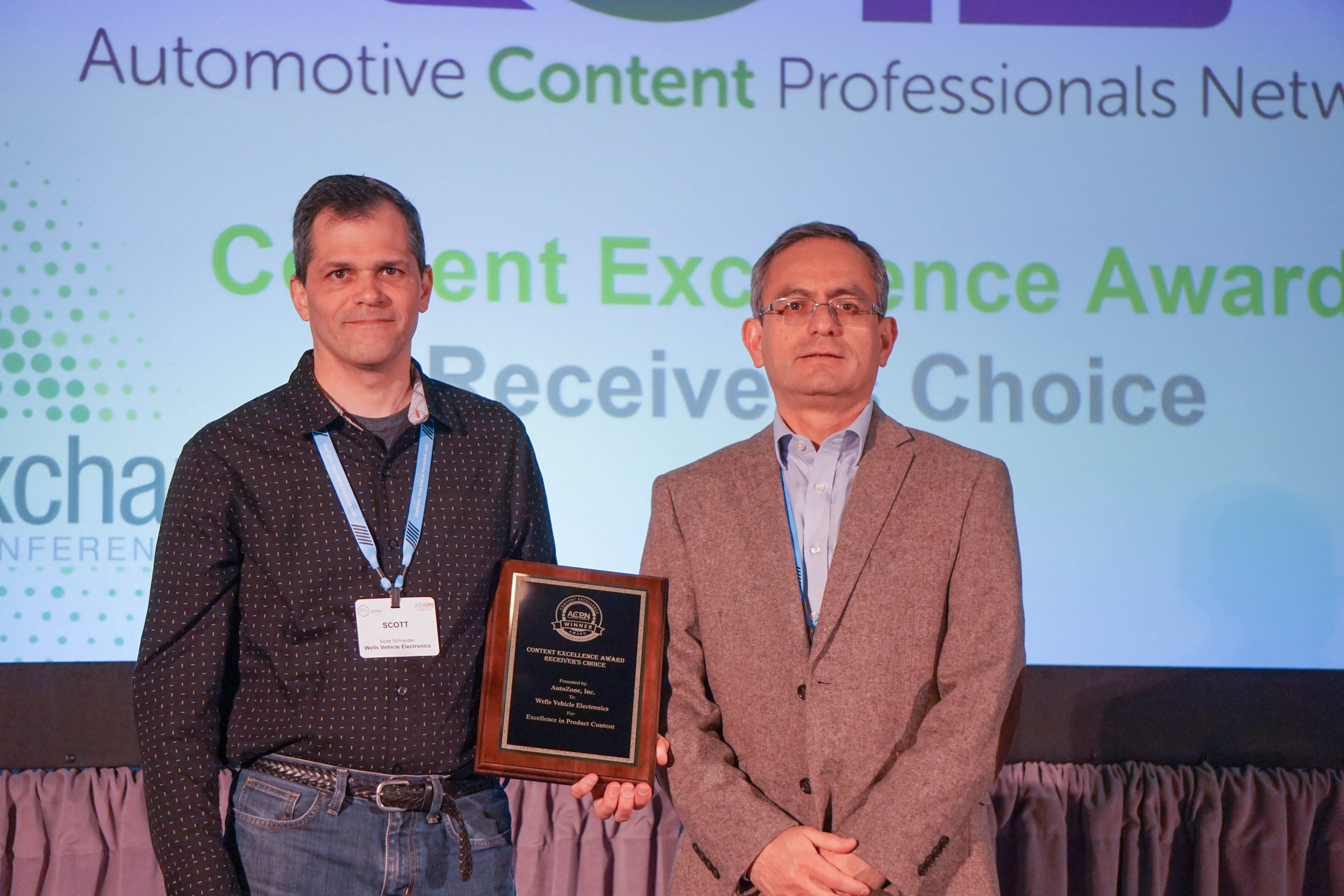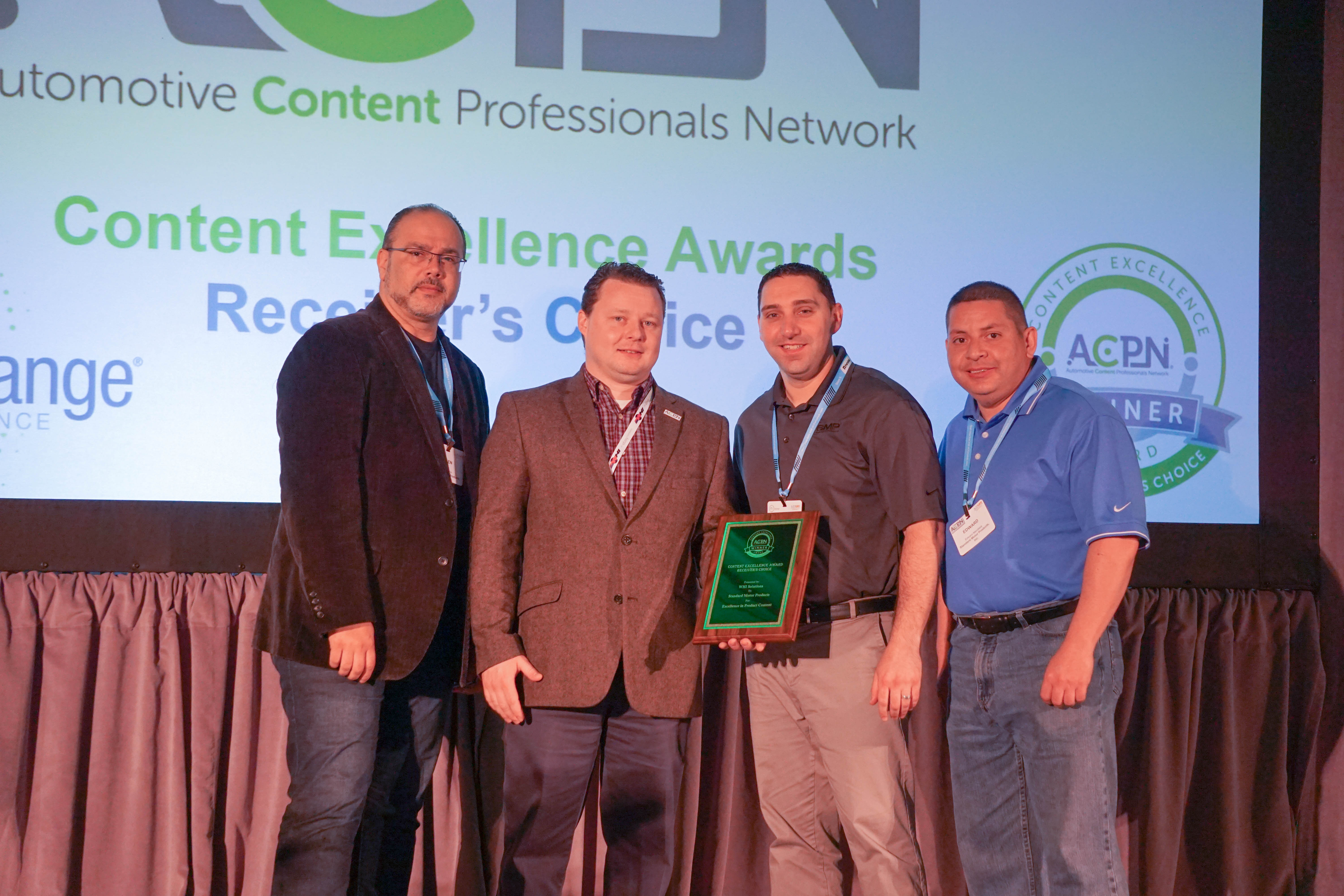 past winners
Each award-winning company is eligible to use the ACPN Content Excellence logo on company literature, mobile apps and websites. Contact ACPN@autocare.org for image files.
Receiver
Award Winner
Advance Auto Parts
Dorman Products
Aftermarket Auto Parts Alliance
Motorcar Parts of America, Inc.
AutoZone, Inc.
BBB Industries
Epicor Software Corporation
Cardone Industries
O'Reilly Auto Parts
Continental Corporation
PartsTech, Inc.
DRiV, Inc.
WHI Solutions
Dorman Products
Receiver
Award Winner
Advance Auto Parts
Dorman Products
Aftermarket Auto Parts Alliance
Mevotech
AutoZone, Inc.
K&N
Epicor Software Corporation
Gates Corporation
O'Reilly Auto Parts
Dorman Products
PartsTech, Inc.
Gates Corporation
WHI Solutions
BBB Industries
| | |
| --- | --- |
| Receiver | Award Winner |
| Advance Auto Parts | Clarios |
| Aftermarket Auto Parts Alliance | Winhere Brake Parts, Inc. |
| AutoZone, Inc. | PowerStop |
| Epicor Software Corporation | Robert Bosch |
| O'Reilly Auto Parts | Spicer / Dana Holding Corporation |
| PartsTech, Inc. | DRiV, Inc. |
| WHI Solutions | Carter Fuel Systems |
| | |
| --- | --- |
| Receiver | Award Winner |
| Advance Auto Parts | NGK Spark Plugs |
| Aftermarket Auto Parts Alliance | DRiV, Inc. - Monroe |
| AutoZone, Inc. | Standard Motor Products, Inc. |
| Epicor Software Corporation | Dana, Inc. |
| O'Reilly Auto Parts | Dorman Products, Inc. |
| PartsTech, Inc. | Melling Automotive Products |
| WHI Solutions | Raybestos |
| MAM Software, Inc. | Dorman Products, Inc. |
| | |
| --- | --- |
| Receiver | Award Winner |
| Advance Auto Parts | Johnson Controls |
| Aftermarket Auto Parts Alliance | DENSO Products and Services America, Inc. |
| AutoZone, Inc. | Wells Vehicle Electronics |
| Epicor Software Corporation | Brake Parts, Inc. |
| O'Reilly Auto Parts | Melling Automotive Products |
| PartsTech, Inc. | Dorman Products, Inc. |
| WHI Solutions | Standard Motor Products |
| | |
| --- | --- |
| Receiver | Award Winner |
| Advance Auto Parts | CARDONE Industries, Inc. |
| Aftermarket Auto Parts Alliance | Delphi |
| AutoZone, Inc. | Motorcar Parts of America |
| Epicor Software Corporation | CARDONE Industries, Inc. |
| Genuine Parts Company/NAPA | East Penn |
| O'Reilly Auto Parts | Winhere Brake Parts, Inc. |
| PartsTech, Inc. | CARDONE Industries, Inc. |
| WHI Solutions | CARDONE Industries, Inc. |
| | |
| --- | --- |
| Receiver | Award Winner |
| Advance Auto Parts | Federal Mogul |
| Aftermarket Auto Parts Alliance | East Penn |
| AutoZone, Inc. | Dorman Products, Inc. |
| Epicor Software Corporation | Continental Elite |
| Genuine Parts Company/NAPA | Gates Corporation |
| O'Reilly Auto Parts | Tenneco, Inc. |
| PartsTech, Inc. | DENSO Products and Services America, Inc. |
| WHI Solutions | AC Delco |
| | |
| --- | --- |
| Receiver | Award Winner |
| Advance Auto Parts | Dorman Products, Inc. |
| AutoZone, Inc. | Wells Vehicle Electronics |
| Epicor Software Corporation | AC Delco |
| Genuine Parts Company/NAPA | Gates Corporation |
| O'Reilly Auto Parts | Tenneco, Inc. |
| WHI Solutions | Dorman Products, Inc. |
| MAM Software, Inc. | Robert Bosch |