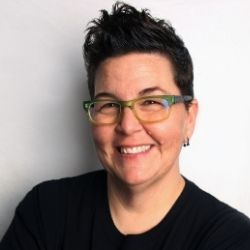 President/CEO, RepairPal Express
Vice President of Marketing, Industry, and Sales, RepairPal
Jill Trotta is an ASE Certified Technician/Advisor with over 25 years of experience in the industry. Jill started as a technician and has worked her way through many areas of industry. She's been a technician, service advisor, service manager, parts director, and shop owner. Her experience is vast and started in the '90s with a broken Volkswagon Bug and a degree in Recreational Therapy and has developed into a long and successful career in the industry.

Jill started with RepairPal in 2013 as the Director of the Automotive Group. She is most currently the Vice President of Marketing, Industry, and Sales at RepairPal and recently took the reigns of a subsidiary company as President/CEO of RepairPal Express. In her role at RepairPal, she's played an integral role in the execution and evolution of the RepairPal Certified program, the program has grown from 120 shops in 2013 to over 2700 shops today. Jill and her team have evaluated over 6000 independent repair facilities. These shops are considered to be some of the best in the country.

Jill is a regular at industry events, RepairPal's spokesperson, and a thought leader in the industry. She is very knowledgeable about the industry, the aftermarket, and is always happy to share this knowledge. Jill has spearheaded and participated in Community Car Care Clinics both for RepairPal and other organizations. She is very passionate about consumer education and regularly does radio interviews, print interviews, and TV appearances to share her knowledge with the public. She is also a regular contributor to RepairPal.com, Gieco.com, as well as other industry publications.

Jill is also very involved in the industry and her community. In 2014 she was awarded the Kukui Humanitarian of the Year Award and in 2017 she was named Women In Auto Care, Woman of Excellence. She is a very active member of Women in Auto Care and is currently a member of their Executive Team, serving as the Sponsorship Vice-Chairperson. Previously she served on the Marketing and Membership committees. Jill is also a former member of the Auto Care Association's Market Intelligence Committee. Her love and commitment to make the industry a better place is a driving force in her career.

Jill is recognized as the leading expert in the industry on Price Transparency. She is highly regarded by her peers and has a deep love for the industry.