Bill Guinard Lifetime Industry Achievement Award
Purpose
The Import Vehicle Community Lifetime Industry Achievement award honors individuals whose outstanding performance, integrity, dignity and conscientious approach to business affairs are demonstrated as a matter of routine.

Not intended to honor principals exclusively, the Lifetime Industry Achievement award has been a means by which our industry's high contributors and unsung heroes are credited and appropriately recognized.
Qualifications
The candidate is and/or has been involved in the import parts segment of the aftermarket for a minimum of 20 years.
The candidate must have made significant contributions to his/her company (can be his/her employer), which contributions have a positive influence and benefit to the stature and progress of the aftermarket industry.
The candidate must be known as one whose character and integrity are beyond reproach and admired.
Self-nominations are not accepted.
Nominations for 2021 are closed.
2021 People Award winners will be announced during the Import Vehicle Community Awards Luncheon at AAPEX on Wednesday, Nov. 3, 2021.
The Import Vehicle Community presented the 2019 Bill Guinard Lifetime Industry Achievement Award to: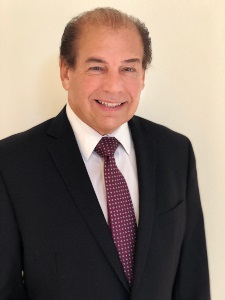 Mario B. Recchia, president, The Recchia Group, Inc.
Mario Recchia grew up around his father's construction company's equipment, Mack Trucks, Caterpillar bulldozers and John Deere equipment. This was the foundation that led him to a lifetime career in the automotive industry.
Recchia graduated college as a journalism major. He soon began working for a division of Volkswagen, then Metrix Group Inc. where he was president-CEO before joining WORLDPAC.
Most recently he held numerous senior level positions at WORLDPAC for over 20 years – latest SVP marketing where he shaped and oversaw all the company's marketing activities.
If you have a dream, then dream big! I always relied on my gut instincts along with customer input in making decisions. You can't learn very much sitting in an office when all the answers are 'locked' somewhere within your customers. You just need to get out, listen to them and they will give you immeasurable insights into how to succeed.

Mario B. Recchia
Recchia also founded and directed WTI (Worldpac Training Institute). WTI was established in 1998 with a vision to aid customers to better succeed in the changing aftermarket environment. WTI was the first to bring car line specific training to independent repair facilities and today leads the industry in customer education for technicians and business owners.
"If you have a dream, then dream big!" This was the mantra when the Worldpac Supplier & Training Expo was created in 2009. Today it is the largest independent biennial training event in the aftermarket that trains thousands of customers and introduces them to hundreds of suppliers during an evening trade show.
Recchia extended his expertise to the industry lending his talents and knowledge to support both national and local associations. He actively participated in events leading to the passage of the Right to Repair Act and joined in numerous industry panels and discussions relating to technology, warranty and other areas affecting the aftermarket.
Recchia enjoys spending time with his wife Wendy and family and loves traveling with them on world wide adventures.
Previous Award Winners
Robin Biggins (1992)
Houston "Howdie" Smith (1993)
Bill Buckley (1994)
Ken Powell (1995)
Steve Murphy (1995)
Charles Coleman (1996)
Albert Cohen (1996)
Mike Taksey (1997)
Bob Calhoun (1997)
Tony Perticari (1998)
George Halford (1998)
Jim Keith (1999)
** (2000)
Bob Tye (2001)
Trevor Musso (2001)
Christopher Kern (2002)
Jerry Brosilow (1926-2003) (2003)
Joe Bagwell (2004)
James E. Berner (1933-2004) (2005)
Gail Volpe (2006)
Bill Guinard (2007)
Daniel J. Lewis (2008)
Hans J. Wulff (2009)
Mary Lynn Nyman (2010)
Dick Berreman (2011)
Chris von Lenski (2011)
Janette Ponciroli (2012)
Peter Klotz (1954-2012) (2013)
Steve Lynch (2014)
Grant Kitching (2015)
Craig Burns (2016)
Stanley Bloomfield (2017)
Wm. "Mac" McGovern(2018)
Rosemary Perry (2018)
**Award not presented.