Meet a Staffer: Sara Greene
April 2, 2020
By
Camille Sheehan
Title: Director, Membership
Department: Membership
Years at the Association: 1
Email address: sara.greene@autocare.org
Favorite apps: WhatsApp, Waze, Instagram
Words to live by/motto: "Have courage and be kind."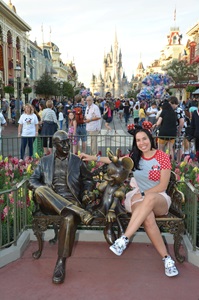 Determination and dedication—two words that can summarize what Sara Greene brings to her personal life and the Auto Care Association. In her short time since joining the association as the director of membership, Greene has dug in deep "down in the trenches" with her team to identify ways to enhance the Auto Care membership experience. "My role is to make sure that our members are getting the best experience they possibly can," said Greene. "I'm very process-oriented. You can always fine-tune a process, so being able to create a new process that allows us to identify areas of improvement, not just for our members but for us and our team, is something I'm really proud of."
Greene comes to the association after 13 years with the National Retail Federation (NRF), where she worked with fellow Auto Care colleague Mark Bogdansky, vice president, meetings and events, for more than 10 years. "He was all too excited to bring me into this awesome world of ours at the Auto Care Association," said Greene. "My favorite part of working here is the staff—my colleagues," said Greene. "The biggest reward is knowing that what each person does at Auto Care really has an impact on the aftermarket industry and that we have products that are helping our members do their day-to-day jobs."
Where did you grow up and what are some interesting details about your life?
Until the age of 14, I grew up in Paraguay. When the country's dictatorship was overthrown in 1989, my father was concerned for our family's safety and was able to get us out of the country. We followed him to the U.S. in 1994, after five years of not seeing him.
Tell us about your life outside of work.
I'm a former runner/tri-athlete. I signed up for my first half-marathon this year, the Disney Wine & Dine half-marathon, taking place right after AAPEX! It's also my first half-marathon fundraiser for the American Cancer Society. Sadly, too many people I know have been afflicted by this disease and this half-marathon will be a celebratory run with a friend for her completing chemo! Here's the link if you'd like to support: http://main.acsevents.org/goto/ironsara
Tell us a few fun facts about you that would surprise people.
I am a two-time Ironman athlete (that's a 2.4-mile swim, 112-mile bike and 26.2-mile run – all must be completed in under 17 hours). I am living proof that if you put your mind to it, you can literally do anything your mind tells your body is possible. It's that physical challenge and feat—the question is, "Can you do it?" and for me, the answer is, "If you work hard enough, absolutely yes."