Meet a Staffer: Larry Northup
September 30, 2019
By
Camille Sheehan
Title: Sr. Director, Community Relations; Executive Director, AWDA
Department: Strategic Development
Years at the Association: 19
Email address: larry.northup@autocare.org
Favorite apps: My Talking Pet!
Words to live by/motto: Silence is not patriotic. – Unknown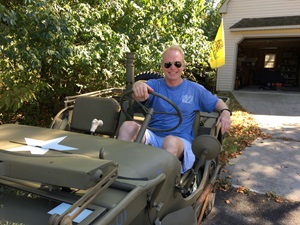 If you don't already know who Larry Northup is, you might be new around here. Larry Northup has been with the association for 19 years and has become a familiar name and face to many members throughout the industry. "I spend a lot of time communicating with members by phone, email and whenever possible, face-to-face," said Northup. "I love working with a group of members that I so respect and admire," said Northup. "I appreciate what our members have done; the big and small things that they accomplish every single day."
Prior to joining the Auto Care Association, Northup was at the National Wooden Pallet and Container Association. He joined the Auto Care Association in 2000 when it was the Automotive Aftermarket Industry Association (AAIA) as a lobbyist for the government affairs department. Over the years, Northup has expanded his role in the association to now overseeing all 12 of the association's segment communities as senior director of community relations. "I serve as a resource for our staff, helping to establish policies and procedures." Northup also serves as the executive director of the Automotive Warehouse Distributors Association (AWDA) segment community.
What is your proudest professional accomplishment at the Auto Care Association so far?
Working with members to turn AWDA around and re-instill its traditional sense of leadership, which had begun to erode by the time the organization came on board with AAIA in 2004. AWDA is at the center of just about everything Auto Care and I like to think I played a small part of that transformation.
Where else have you worked (what jobs/positions/locations)?
I've always been involved in the non-profit world, starting with a position at the National Wooden Pallet and Container Association. In the intervening years, I founded and for 14 years owned an association multi-management company. It gave me a unique perspective and a huge amount of respect for the business people I've been privileged to serve over the years.
Tell us a few fun facts about you that would surprise people.
I love history, old Jeeps and other old cars, ship wreck diving, sailing, cycling, the ocean, and outdoor activities, generally.