Meet a Staffer: Todd Finnerty
May 17, 2019
By
Camille Sheehan
Title: Associate, Member Engagement and liaison, Car Care Professionals Network (CCPN) community
Department: Membership
Years at the Association: 2.5 years
Email address: todd.finnerty@autocare.org
Favorite apps: ESPN, Formula 1, Clash of Clans, Spotify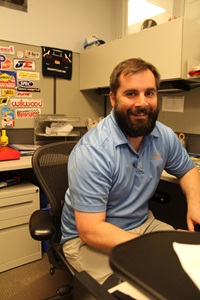 An avid passion for cars and the automotive world is how Todd Finnerty happened upon the Auto Care Association back in 2016. "I was looking up zoning laws in the area to find out the rules for doing automotive repair work from my home," said Finnerty, associate, member engagement. "This led to me discovering a job opening with the Auto Care Association online."
Finnerty has been working on cars since his early teenage years. "I went through the Automotive Youth Education Services (AYES) mentorship program in high school while working at Mercedes Benz of Arlington," said Finnerty. Since high school, Finnerty worked as an automotive technician at a range of shops in the D.C. area, from small independents to the Ferrari/Maserati of Washington, D.C. Prior to joining the Auto Care Association, Finnerty graduated from American University with a degree in Business and Finance.
As member engagement associate, Finnerty's role includes overseeing renewals, keeping member records up-to-date and communicating with members about benefits and resources. "Getting to talk shop with members is my favorite thing," said Finnerty. "I get to take all of my past automotive experience and apply it to my work here. I still get to talk shop, the only difference is that now I don't get my hands dirty."
Words to live by/motto:
"If you don't come walking back to the pits every once in awhile holding a steering wheel in your hands, you're not trying hard enough." – Mario Andretti
What are your long-range professional goals for both you and the Auto Care Association?
I'd like to see an expansion in the number of shops that come to our association as members as a way to help support their businesses and that sector of the industry.
Tell us about your life outside of work (family, hobbies, home, etc.).
When I'm not in the office, I help keep some of our Auto Care staff on the road by doing DIY work for them on their vehicles. My wife and I spend most of our free time these days with our one-year-old daughter.