Meet a Staffer: Nathaly Branham
February 20, 2019
By
Camille Sheehan
Title: Web Manager
Department: Communications
Years at the Association: 8 months
Phone number: 240-333-1059
Email address: nathaly.branham@autocare.org
Words to live by: "The best way to predict the future is to create it."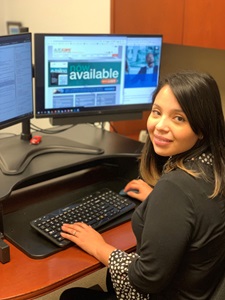 While she may be a fresh face at the Auto Care Association, Nathaly Branham has already made a tremendous impact for the association in the eight months since she joined the Communications department. As Web Manager, Branham oversees, maintains and improves the association's numerous websites to provide an exceptional digital experience for its members.
The latest and largest enhancement Branham has brought to the association's online experience is the newly-launched Auto Care Digital Hub. The Digital Hub, launched last fall, is a digital platform that enables the association to house all of its market research reports and published industry content—all in one place.
"The Auto Care Digital Hub has been a major asset to us," said Branham. "It gives us the chance to empower our members with knowledge and industry data in an easy-to-use platform."
What is your favorite part about working at the association? What are the biggest rewards?
I love seeing how my colleagues generate new ideas that turn into products and services that will help shape the future of the auto industry. The biggest reward is seeing ways in which I can contribute to their success.
Where did you grow up and what are some interesting details about your life before working at the association?
I'm originally from Lima, Peru. If you've ever heard of Peruvian rotisserie-style chicken, I had a chance to eat a few of those growing up.
Tell us about your life outside of work (family, hobbies, home, etc.).
I love sports in general, but something close to my heart is soccer. I follow a few leagues around the world: the English Premier League, the Spanish league (La Liga), Bundesliga (German), the French and Italian leagues as well.
In my free time, I have this stadium-themed trip I like to do each year by going to a different soccer stadium.