Meet a Staffer: Leah Jones
March 14, 2018
By
Camille Sheehan
Title: Director, Meetings & Events
Department: Meetings & Events
Years at the Association: 14 years this July!
Phone number: (240) 333-1061
Email address: leah.jones@autocare.org
Words to live by/motto: "You must do the thing you think you cannot do" - Eleanor Roosevelt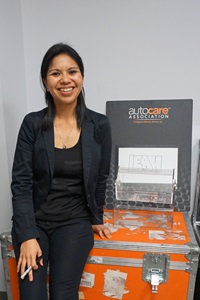 The Auto Care Association facilitates dozens of events each year, from small committee meetings, to the community conferences and of course the community events at AAPEX. Leah Jones, director, meetings and events, has found time in the midst of the constant cycle of planning and preparing to successfully balance her two worlds: being a mother and wife to her family and a being a dedicated working professional.
Leah's career journey into meetings and events began with her first job out of college as a sales coordinator for Starwood Hotels, where she got her first taste of the convention management industry. "I loved it! Hotels, travel, fun people. It was great," said Jones. "After a few years I knew I wasn't interested in pursuing hotel sales so I wanted to explore the other side and work for an association in their meetings department. I found convention management to be so rewarding."
What is your favorite part about working at the association? What are the biggest rewards?
Favorite part is definitely the people. I laugh every single day. We truly have a family here. I mean, Michael Barratt (my SVP) was even in my wedding!
What is your proudest professional accomplishment at the Auto Care Association so far?
The association is very supportive of our professional development and with their encouragement I applied for and was accepted into a leadership scholarship class for the American Society of Association Executives (ASAE). Through the ASAE, I earned my "Certified Association Executive (CAE)" accreditation in Dec. 2015, right after the rush of AAPEX. It was extremely gratifying and humbling as well since Auto Care was really invested in my development.
Tell us about your life outside of work (family, hobbies, home, etc.).
Right now my family is my life. I've been blessed with four children, 3 boys (Lucian – age 5, Matias age 3 and Sebastian age 9 months) and 1 girl (Natalia). There was an unfortunate accident in the summer of 2016 and my little girl passed away when she was 6 months old. It was a devastating time for my family. My Auto Care family, staff and members alike, were so generous and sincere in their love and support. I was so grateful for their gestures and outreach.
Tell us a few fun facts about you that would surprise people.
I am pretty good at Tetris. I reached Level 18 once. Just once. Also, I went to the University of Maryland, College Park…but I'm a Duke basketball fan. It's heresy.