January 10, 2018
By
Camille Sheehan
Title: Art Director
Department: Strategic Development – Communications
Years at the Association: 18
Phone number: 240-333-1055
Email address: tom.ho@autocare.org
Words to live by/motto: "Live each day as if it was your last."
Favorite Apps: Amazon Music, YouTube, Google Hangouts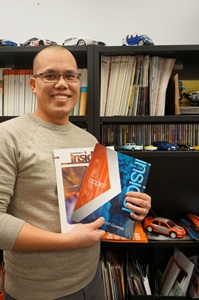 Tom Ho has been instrumental to the evolution of the look and feel of the brand over the years as the association's Art Director, and with our New Year, New Insider, we're giving you an inside look at the face behind the brand.
While many readers of Insider may be familiar with the creative work and incredible design talent displayed throughout the magazine over the years, the person behind the pages is even more extraordinary. Originally from Cambodia, Tom was forced to escape to the United States at the age of seven with his family as refugees during the Pol Pot and Khmer Rouge regime in the 1970s. "My family went through many difficult struggles and survived," said Ho. "Millions of people living in Cambodia were killed during the regime, including my father. Because I was very young, I remembered very little of the struggles that my family went through. We ended up in refugee camps in Thailand and the Philippines before coming to the United States in 1983."
Tom's family ultimately made their home in Montgomery County, Maryland, where he began school in the first grade and eventually graduated from high school with honors. Tom went to the University of Maryland, Baltimore County (UMBC) and earned a degree in Graphic Design, making him the first in his family to earn a college diploma.
How did Tom get his start at the Auto Care Association?
"Shortly after graduating college, I was hired as the first in-house designer for the association."
What are Tom's work duties at the association?
"I manage creative and branding for the association. This includes producing concepts and designing materials for marketing, promotion, events, conferences and everything in between."
Where does Tom get inspiration for his work?
"As a designer, I see and notice design everywhere – whether good or bad – so I get my inspiration from everything. It could be anything from clothing tags, websites, product packaging, magazines, store front signs, candy wrappers, catalogs, paper company promos, designers on the Behance website, restaurant menus, beverage bottles, etc."
How would Tom describe his personal design style?
"I would say my design style is mostly corporate, based on the majority of the design work I do. I like my designs to be as clean and visually interesting as possible, without over doing it. I think the most important thing to remember about design is being able to communicate a clear message. I've grown as a designer over the years and have learned to balance my design between doing too little and doing too much."