Technician's Choice Award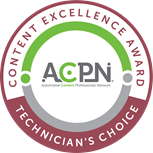 About the Award
This award is presented by ACPN in partnership with the Car Care Professionals Network (CCPN), Women In Auto Care (WIAC), and the Young Automotive Networking Group (YANG). This category is for business-to-business systems that are either web-based or client-side install (app) supported. Client based installations need to have test environments pre-configured for ease of use during judging. This award is judged from a technician's and shop owner's point of view (an end consumer).
Eligibility
Company Type: Distributors, Resellers, Software Solution and Content Service Providers
Company Membership: Auto Care Association member in good standing
Platform:

An eligible system must support a business transaction.
An eligible system cannot be manufacturer provided.
An eligible system cannot be consumer facing.
The entity entering their system for consideration must be currently consuming and utilizing industry standard data (ACES®, PIESTM) and best practices.
Award Format
Judging
This award is judged by a panel of technicians and shop owners from the Car Care Professionals Network (CCPN), Women in Auto Care (WIAC), and Young Automotive Networking Group (YANG) communities, following the judging guidelines outlined below.
Each judge scores the submission independently from all the other judges. Each submission is judged on five general areas, with each general area evaluated on specific criteria, and scored using on a scale from 1 to 4. After each general area is reviewed a total score for each general area is arrived at by adding the individual scores of the criteria together, dividing it by the total possible points you could earn, then applying the weight of the general area to it. Then an overall final total score for the submission from the judge is determined by adding the total score for each general area together.
Once all judges have submitted their scores an average of all the judge's scores are taken, and the submission with the highest average score is considered to be the winner.
Submission Requirements
Each parent company may ONLY submit one entry.
At least one representative from the submitting company must be present at the Knowledge Exchange Conference to accept the award in the event that the company is selected as an award recipient. If there is no representative present, the company will be restricted from submitting for any awards the following year.
Entries must be received in full by the deadline (Entry Form, Participant Acknowledgement Form)
Judging Guidelines
If the eligibility requirements listed above are met 100% for the award submission, the following judging guidelines are then utilized to judge the submission.
Each submission is judged on five general areas listed below with weighted percentages. Each year, the weights for each general area will change to focus on different areas of the submitted systems.
First impression
Best Use of Screen Real Estate
Use of Color
Use of Graphics/Logos/Fonts
Consistency/Continuity
Ability to View Images/Digital Assets Where Available
Overall Aesthetic Impression/Professionalism
Overall Ease of Use/Ability to Find What You Need
Speed/Load Time
Logical Organization/Layout
Reasonable Number of Clicks to Find Something
Frictionless
Site Map Provided/Help Features
Filtering and Sorting Capability
License Plate Lookup
VIN Decoder
OCR Camera Integration
Smart Recommendations (Cross selling based on repair occasion)
Part Alias Search
Geographical Awareness
Attractiveness of Mobile Experience
Lookup by Diagram/System
Part to Part Comparison
Order Placement Experience (20%)
Job Management Feature
Product Order Tracking
Quote Building
Order History
Ease of Use
Intuitive
How to Order/Where to Buy Feature
Tech Support Phone Hotline
Tech Support Chat
Tech Support via Text Message
Tech Support Email
Ability to Provide Feedback/Ask Questions/Report Errors
highlights from previous award ceremonies
past winners
Each award-winning company is eligible to use the ACPN Content Excellence logo on company literature, mobile apps and websites. Contact ACPN@autocare.org for image files.
Gold
WHI Solutions
Silver
Parts Authority
Bronze
PartsTech, Inc.
Silver - WHI Solutions, Inc.
Bronze - Factory Motor Parts
Silver - Parts Tech, Inc.
Bronze - WHI Solutions, Inc.