Valentina Videva-Dufresne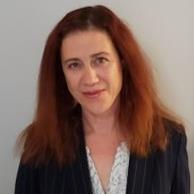 Vice President & General Manager, North America Automotive and the Global Aftermarket Business
Sensata Technologies
Valentina Videva-Dufresne is Vice President and General Manager for the North America Automotive and the Global Aftermarket Business at Sensata Technologies. She is leading the transformation of the business as the industry accelerates electrification and connectivity. Previously, she served as the first Chief of Staff to the President and CEO of Sensata, Jeff Cote, where she was responsible for the prioritization and implementation of corporate initiatives. In her 25 years at Sensata/TI, Valentina has held various engineering and management roles with expanding responsibility and leadership, including a three-year expatriate position in Mexico that led to election to technical staff.

Valentina holds a BS in Mechanical Engineering from Norwich University, an Executive MBA from MIT, as well as Business Analytics and Sustainability certificates from the Sloan School of Management at MIT, marrying her love for data with impact in sustainability and especially equity.

Valentina co-created and chaired the Global Diversity, Equity and Inclusion committee under the Engineering Council at Sensata, and now continues as strong business advocate. She believes that education is a great equalizer and serves as a Secretary on the Bristol Community College Board of Trustees, an institution that supports the local community, gateway cities in Massachusetts and sustainability.

She is a mother of 14yr and 17 yr old and loves spending time with her family reading, drawing, figuring out whodunit, and finding connections between art, science, and the world around us.